A citrus lover's dream, this gluten free citrus slice is an easy, no-bake recipe. A simple melt-and-mix base with biscuit pieces and coconut, topped with a smooth and zesty cream cheese icing.
Have you ever lost a recipe that you really liked, and then spent a ridiculous amount of time trying to find it? That was me, with a citrus slice recipe.
Years back, I think even before we needed GF food in our house, my Dad found a citrus slice recipe in the newspaper. He cut out the recipe and left it strategically lying around until I took the hint and made it. We all liked it, and I made it a bunch more times. But I never wrote the recipe into any of my recipe notebooks, and at some point in the recent past, I didn't make it for a while and the newspaper clipping disappeared.
When I decided I wanted to make a gluten free citrus slice recipe for this website, I hunted high and low for that recipe to use as inspiration, but alas, it seems to have well and truly disappeared.
But, using our recollections of the recipe and mashing up a few different recipes online, I've managed to come up with a gluten free citrus slice recipe that lives up to the memory.
Gluten Free Citrus Slice Ingredients
Here's what you'll need to make this slice:
Sweetened Condensed Milk – You need a little less than a whole can of sweetened condensed milk so you'll have some left over – if you want ideas for how to use it up, my Dad likes to add it to his coffee and I like to just eat it with a spoon 🤷‍♀️
Unsalted Butter – I prefer to use unsalted butter in the icing, as it makes for a stronger citrus flavour, so that's what I've called for in the recipe for both the base and icing. But if salted butter is all you have then by all means just use that.
Gluten Free Biscuits – I used the gluten free arrowroot biscuits from Countdown, but you can use any plain or citrus flavoured gluten free biscuits. GF ginger biscuits would also be amazing in this. If you want to make the slice egg free as well, then make sure the biscuits are egg free.
Desiccated Coconut – I love citrus and coconut together, so there's plenty of coconut in this recipe. If you're not a fan, you could try replacing it with ground almonds, or just more crushed biscuits. I haven't tested it though, so you may have to adjust the amounts slightly to get the right consistency.
Citrus – I've used lemon and orange in this, but you can use any citrus you like depending on what's in season. When we have an abundance of lemons on our tree, or oranges on our neighbours' tree that fall on our side of the fence, I'll add extra zest to the base and the icing, because we like things zesty around here.
Cream Cheese – Cream cheese makes for a super creamy icing on the slice, and adds extra tang. If you don't have any cream cheese on hand, then a simple icing sugar + butter + citrus zest & juice icing would do the trick, too.
Icing Sugar – Um yeah it's just icing sugar. Not much else to say about that.
To make a dairy-free citrus slice, replace the condensed milk with 1 can of sweetened condensed coconut milk, replace the butter in the base with a dairy-free/vegan butter alternative, and check that the gluten free biscuits you're using are also dairy free. Make sure you have some extra biscuits on hand, as the condensed coconut milk is a bit runnier than the regular one and you may need to add more biscuits to firm up the base mixture.
For the icing, you have a couple of choices to make it dairy free. You could try a dairy-free cream cheese alternative (I haven't tested this, and you may need to adjust the icing sugar amount to get the right consistency in the icing). Or, you can do a simple "butter"cream icing instead. Just beat 125g of the dairy free butter with the citrus zest until it's creamy, then beat in 250g of sifted icing sugar and enough citrus juice to make a thick icing.
How to Make the Slice
This is an easy recipe, and would be a great one for kids to make (with maybe a little help with the microwave depending on their age).
We'll start lining an 8″/20cm square cake tin (or roughly equivalent sized slice pan) with baking paper, then zesting and juicing the citrus and setting the zest and juice aside.
Then the condensed milk, butter, half of the citrus zest and a couple of teaspoons of the citrus juice get microwaved until the butter is mostly melted.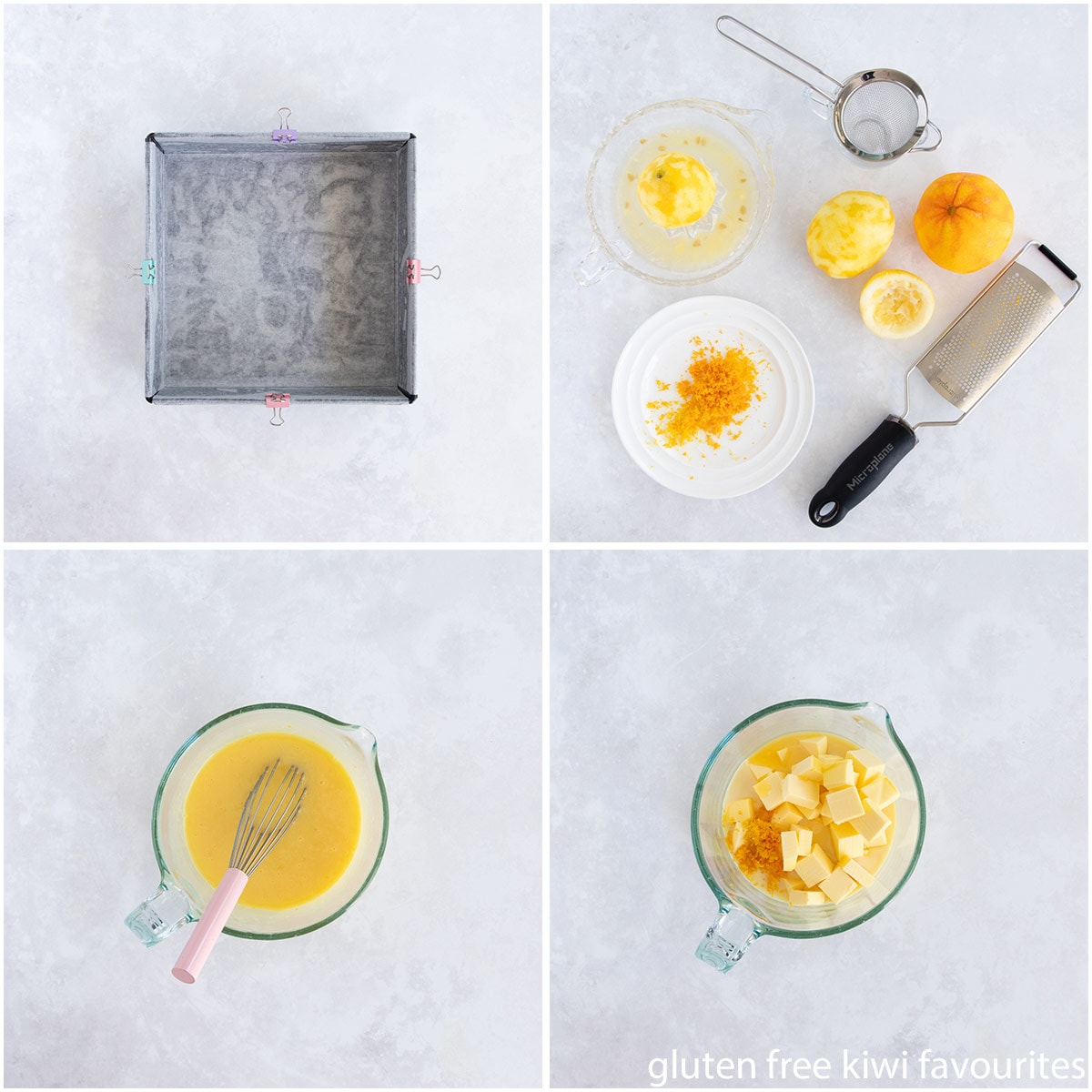 Next, the biscuits get crushed. I have instructions in the post for how to do this if you don't have a food processor (or don't want to clean the food processor, which is often my problem). The crushed biscuits get mixed with the desiccated coconut, then the wet ingredients are mixed in, and the base mixture is done. Press it into the cake tin, and then pop it in the fridge.
While the base starts to chill, you can mix up the icing. The butter and the remaining half of the citrus zest get given a good beat, then the cream cheese gets added in and given a brief mix until combined with the butter. You don't want to beat the cream cheese too much or it can start to get too soft and runny. Then beat in the icing sugar, in a few batches, to save making a crazy, powdery mess.
Spread it all over the base, and chill it all again until firm. I like to give it a good couple of hours in the fridge, but you can speed it up by popping it in the freezer for a while if you're in a hurry.
This is an easy recipe jazz up if you're feeling fancy – you could add chopped dried fruit such as dried apricots to the base, or even some glacé ginger would be lovely.
More recipes you may enjoy…