Gluten Free Crunchy Lemon Muffins
Easy gluten free lemon muffins with a delightful crunchy lemon topping/glaze/drizzle. Whatever you call it, these muffins are the perfect morning tea or lunchtime treat.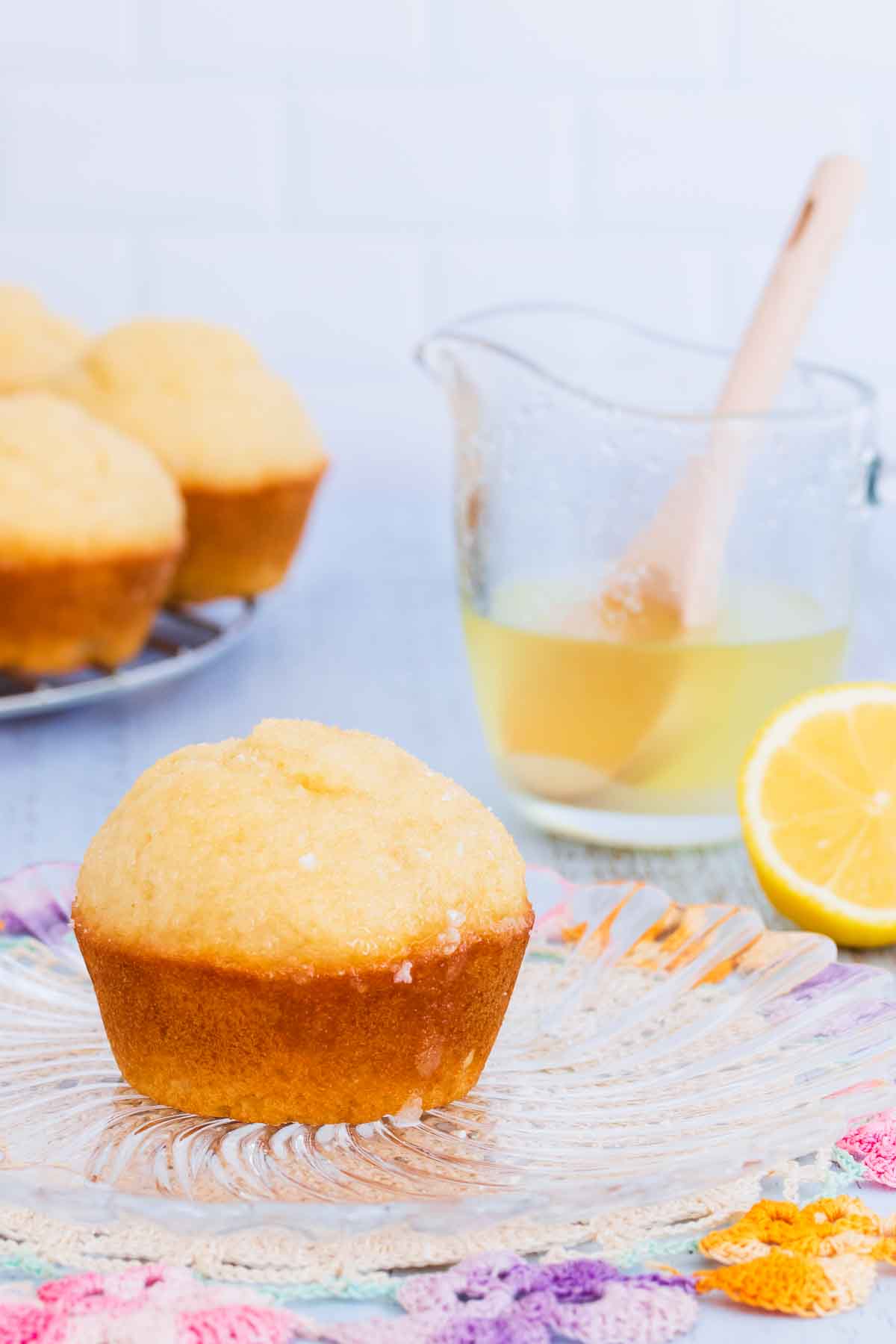 If your Mum or Grandma (or whoever baked for you) ever owned a copy of Alison Holst's Marvellous Muffins cookbook, there's a high chance that crunchy lemon muffins were on high rotation in your baking tins.
My Mum made them so often that our copy of the book automatically opens on that page. So it was a foregone conclusion that I needed to gluten-free-ify them.
These gluten free crunchy lemon muffins are everything we love about the original recipe – light and fluffy muffins with a crunchy sweet/tart lemon drizzle.
The topping really is the star of the show. While it's just two ingredients – sugar and lemon juice, it gives them the most amazing bright, fresh lemon flavour and delightful crunch.
Here's what you'll need to make the muffins…
Ingredients
Gluten free flour – I have tested this recipe with both my homemade gluten-free flour blend (which contains tapioca starch, brown rice flour and potato starch) and Edmonds gluten free flour and they both work very well. My blend makes for more truly muffin-y textured muffins that hold their moisture longer, and the Edmonds makes for slightly more sponge-cake-like muffins, due to the high proportion of starch in their blend. Other gluten free all purpose flour blends should work well too.
Baking powder – Don't forget to check that your baking powder is gluten free.
Xanthan gum – If using a store-bought gluten free flour blend (like Edmonds) that contains a gum ingredient, then you can omit the xanthan gum from the recipe.
Sugar – This is used in the muffin batter, and also mixed with lemon juice to make the crunchy drizzle on top of the muffins. While I often use caster sugar for baking, in this recipe I use regular granulated sugar – for the crunchy topping, it's best to use regular sugar as the grains don't dissolve into the lemon juice, and stay crunchier. And I'm not going to ask you to use two kinds of sugar, so use regular for both.
Butter – You can use either salted or unsalted butter in this recipe. If using unsalted you may like to add a pinch of salt to the dry ingredients.
Milk – I have tested this recipe with both full-fat (blue top) milk and low fat (calci-trim/ yellow top) and they both give great results.
Plain yoghurt – Adding yoghurt to the muffin batter makes for extra moist and fluffy muffins. I use plain, unsweetened Greek yoghurt, but any thick plain yoghurt, sweetened or unsweetened, will do the trick. The yoghurt helps add moisture to the muffins and gives them a great texture.
Egg – You'll just need one large egg for this recipe.
Lemons – Star of the show. You'll need two medium-sized lemons (or three small ones or one big one). Give them a quick scrub to remove any dirt (if they're homegrown lemons) or wax (if they're supermarket lemons) on the skin before you zest them.
Making the Gluten Free Crunchy Lemon Muffins
I mean, when it comes to baking, you can't get much easier than a muffin recipe.
Start by greasing your muffin tin. Once the batter is mixed it needs to go straight into the tin and into the oven, so it's important to have the tin ready to go. You can brush it with melted butter, or use an oil spray.
You could also use muffin liners (cupcake papers) instead of greasing it, if you like.
The dry ingredients all get sifted together in a large bowl and given a good whisk to combine them all well.
Next, the butter gets melted in a small bowl or jug, and the milk is added. If the milk is too cold and starts to harden the butter, chuck it in the microwave for a few seconds to melt the butter again.
Then the yoghurt, lemon zest and egg get whisked in.
Now it just all gets mixed together. A few lumps are fine. We're not worried about overworking gluten (because, ahem, there isn't any), but the xanthan gum (or other gum in a different flour blend) can sometimes make the batter super sticky if it's mixed too much. So for best results, mixing until just combined (as with traditional muffin mixtures) is the way to go.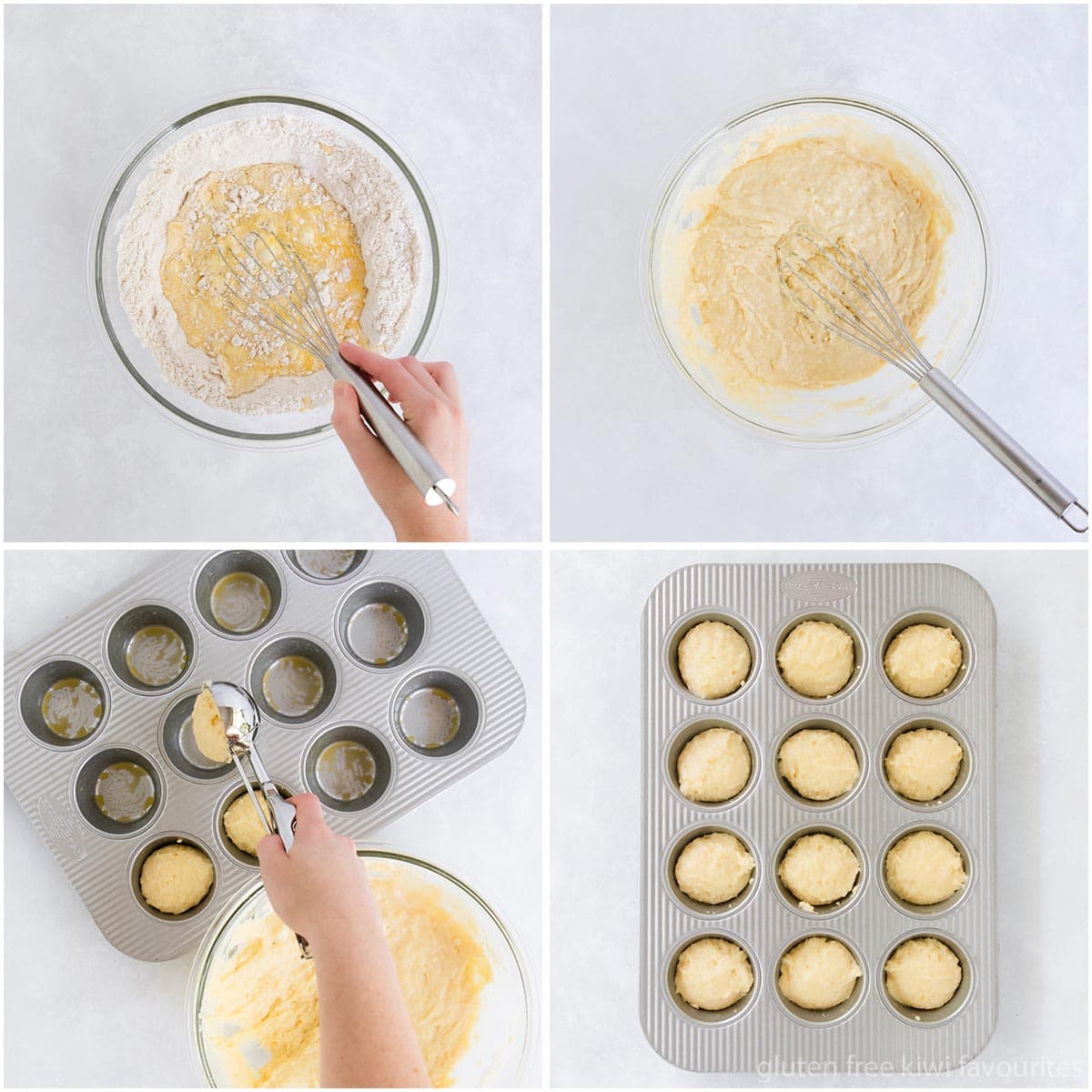 The batter gets split between the 12 holes of a greased muffin tin and baked.
Once the muffins come out of the oven, the real magic happens. But, like, easy magic.
To make the crunchy lemon topping, sugar and the fresh lemon juice get mixed together, and immediately spooned or brushed with a pastry brush (your choice) onto the hot muffins. The lemon juice soaks into the muffins, making them extra moist and zingy, and the sugar stays on top and gives them that signature crunch.
If you don't want to make the crunchy topping, these would also be perfect with an icing sugar + lemon juice glaze, or you could skip the topping altogether and add some poppy seeds to the mix.
For an extra treat, you could also serve them with some homemade lemon curd.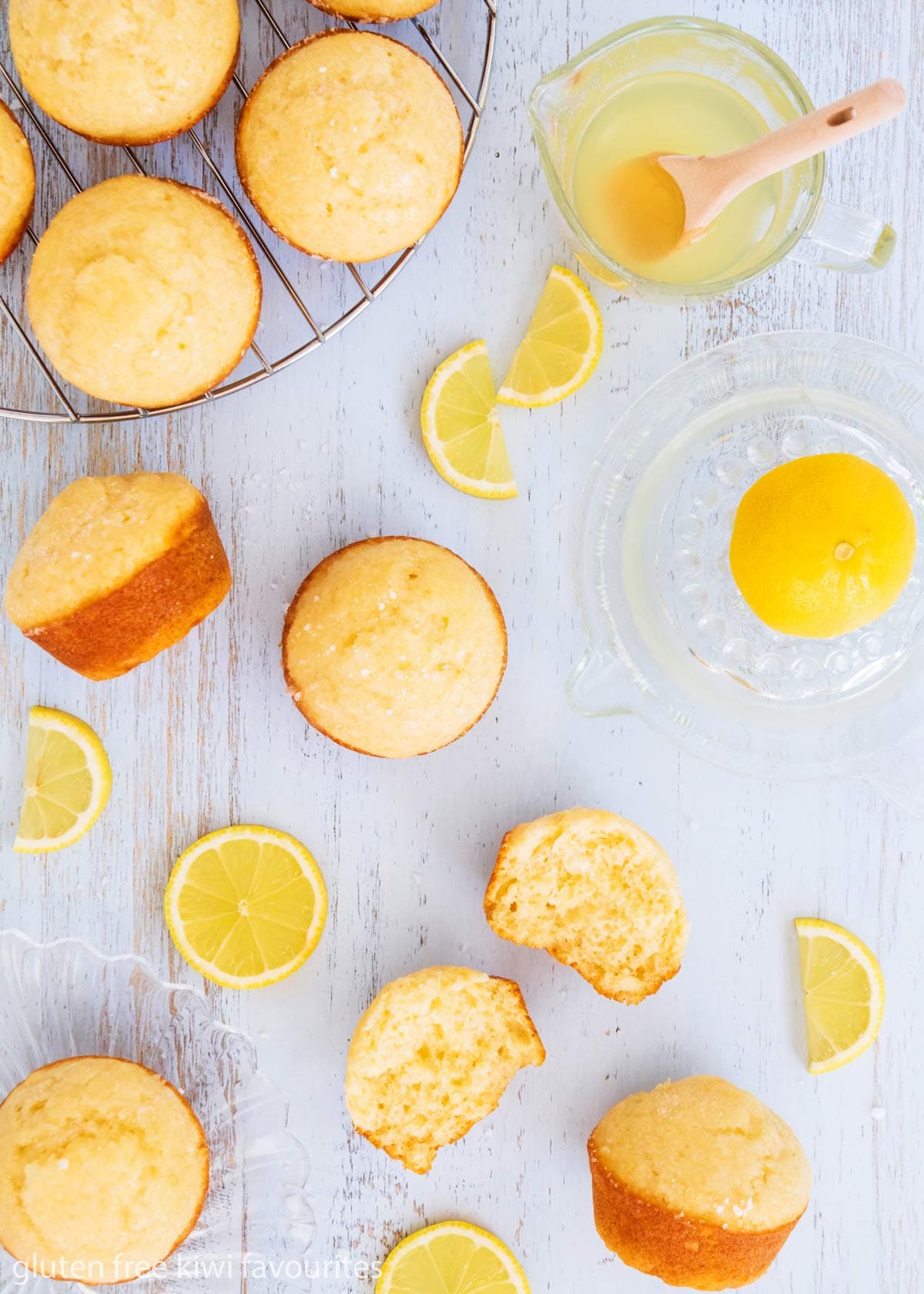 I'll take two, please. And one for breakfast tomorrow.
How long do the muffins keep for?
Speaking of tomorrow, while the muffins are at their ultimate best while they're still warm from the oven, they are still really good the next day, so they can go in a lunchbox.
They're also extra delightful if you warm them back up a bit in the microwave (10-20 seconds usually does the trick) and sprinkle the top with a little extra sugar. The crunchy topping does tend to dissolve as the muffins sit, so adding some more sugar adds the crunch back.
Can you freeze them?
Sure can, they freeze really well. Wrapping them individually in plastic wrap is a good idea, and then freeze them in an airtight container or snaplock bag.
Are you new to gluten-free baking?
Or just need some tips on how to make the most of the recipes on GFKF? Check out my start guide to learn how to bake safely and successfully gluten free.

Allergen safety ✔️ Gluten free flour info ✔️
Accurate measuring ✔️ Tools + Equipment ✔️
Gluten Free Lemon Muffins
Easy gluten free lemon muffins with a delightful crunchy lemon topping/glaze/drizzle. Whatever you call it, these muffins are the perfect morning tea or lunchtime treat.
Print Recipe
Pin Recipe
Ingredients
300

g

gluten free flour

3

teaspoons

baking powder

1

teaspoon

xanthan gum*

150

g

sugar

75

g

butter

1

cup

milk (full fat or trim)

¼

cup

plain yoghurt

1

egg

2

lemons

,

zested
For the drizzle
60

g

1/4 cup sugar

60

ml

1/4 cup lemon juice
Instructions
Spray a 12 hole standard-sized muffin pan with baking spray or brush with melted butter. Alternatively, line the tin with paper muffin cups.

Sift the flour, xanthan gum and baking powder into a large bowl. Add the sugar and whisk to combine all of the ingredients well.

Cube the butter, place it into a heatproof jug, and microwave until melted. Add the milk. (If the butter solidifies when you add the milk, microwave it again for 20-30 seconds until it melts again.) Add the egg, yoghurt and lemon zest, whisk to combine.

Make a well in the dry ingredients, and pour in the wet ingredients. Mix together until just combined. Be careful not to overmix – a few lumps in the batter are 100% ok.

Spoon evenly into the muffin pans.

Bake for 12-15 minutes or until very slightly golden at the edges, and a skewer inserted into the middle of a muffin comes out clean.

While the muffins bake, juice the lemons and measure 1/4 cup of juice (you may only need one lemon, depending on the size).

As soon as the muffins come out of the oven, mix the lemon juice with the extra 1/4 cup of sugar, and immediately spoon over each of the muffins.

Allow the muffins to cool in the tin for 5 minutes, then remove them and place them on a cooling rack to cool.

These are best eaten the day they are baked, but leftover muffins can be stored in an airtight container and warmed in the microwave the next day. They also freeze well – wrap each muffin in plastic wrap and freeze in an airtight container or bag.
Notes
*Omit the xanthan gum if using a gluten free flour blend that contains a gum ingredient (check the ingredients list on the packet).
Gluten Free Flour – This recipe has been tested with my homemade gluten free flour blend and with Edmonds gluten free plain flour. My blend makes for more truly muffin-y textured muffins (which is my preference), and the Edmonds makes for a slightly more sponge-cake-like texture. The Edmonds flour muffins don't hold moisture in as well, so I recommend freezing any leftovers.
Adapted from Alison Holst's "Marvellous Muffins".
More recipes you may fancy…