Gluten Free Afghan Biscuits
Thick and puffy classic afghan biscuits with crunchy cornflake pieces are a Kiwi staple recipe, and these easy gluten-free afghan biscuits are so good that no one will miss the gluten!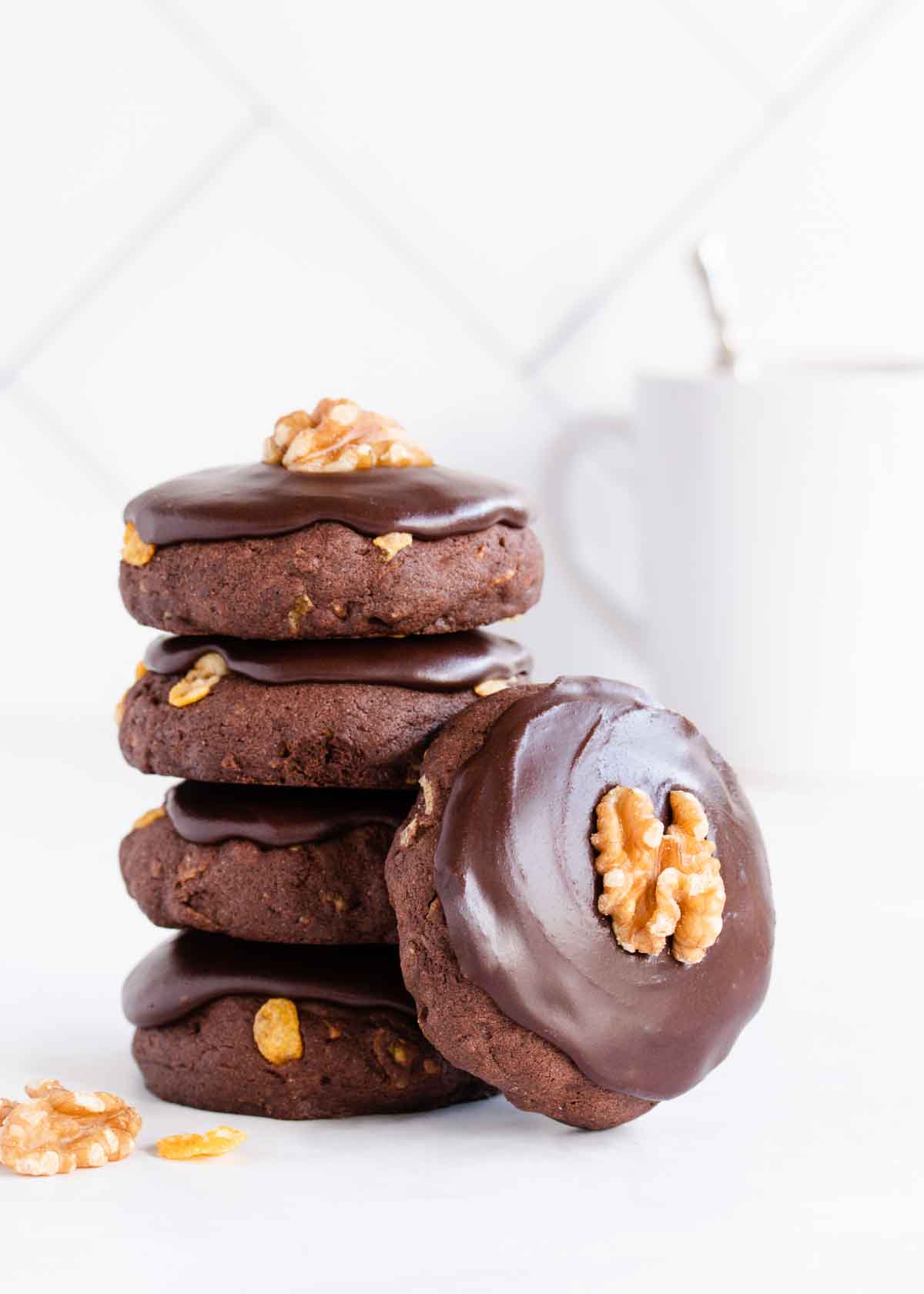 It has always seemed a bit ridiculous to me that one of New Zealand's most common baking-tin biscuit recipes is named after another country… and also that no one really knows why.
There's speculation that Afghan biscuits are named after the first Anglo-Afghan war or because their texture is similar to the terrain and landscape of Afghanistan. But it seems like we will probably never know for sure.
What I do know for sure, is that they're delicious and easy to make, so they deserve a place in any chocolate lover's recipe book, and that shouldn't change just because some of us need to make them gluten-free.
These gluten free Afghan biscuits are everything we love about traditional Afghan biscuits. They're easy to make, rich and chocolatey, studded with crunchy cornflakes and smothered in a thick layer of chocolate icing.
I'll take one and a cup of tea, thanks.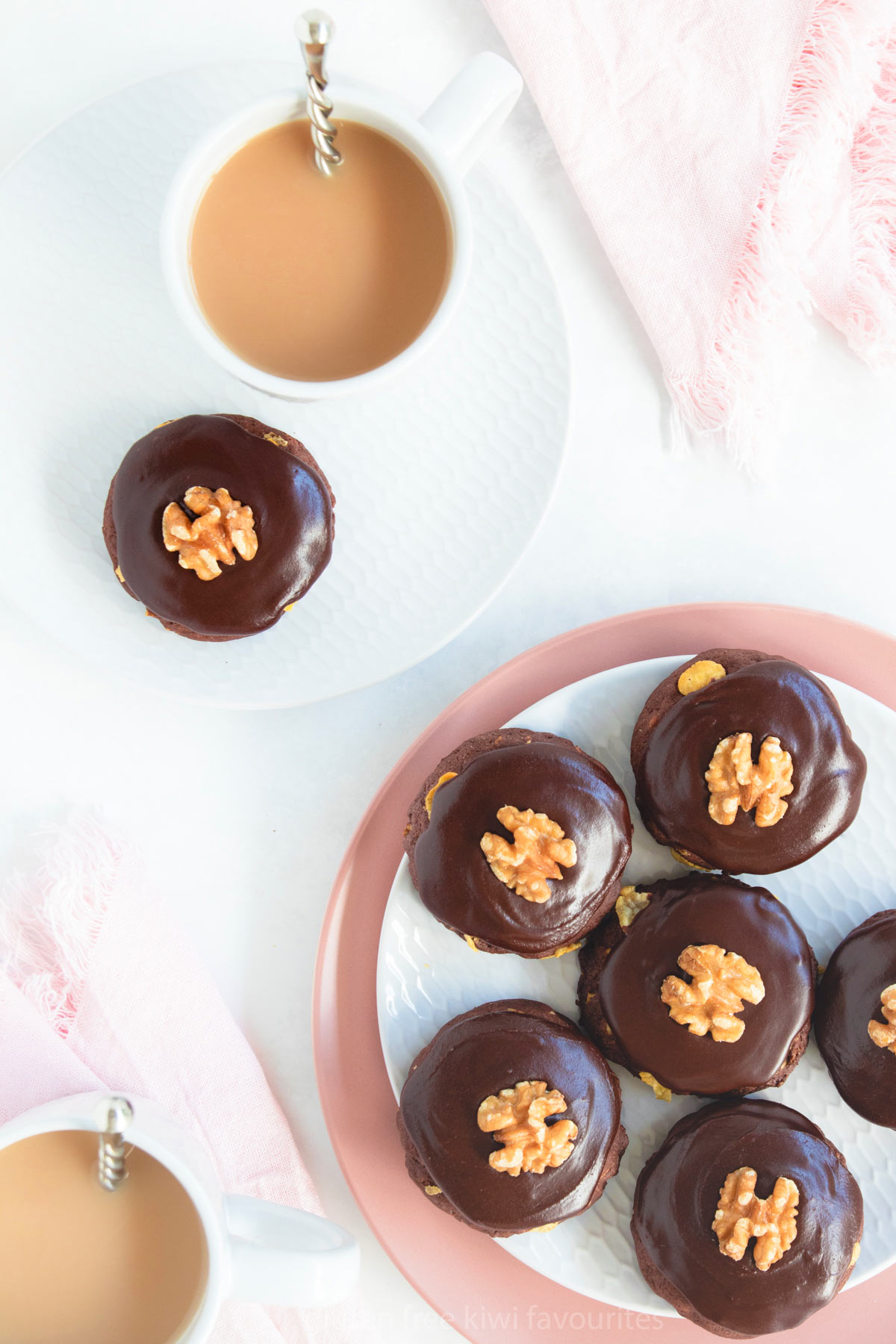 Gluten Free Afghan Biscuit Ingredients
Gluten-Free Flour – I use my homemade gluten-free flour blend for these biscuits.
Xanthan Gum – I don't always use a binding gum in biscuit recipes but I do like a bit in these, as the cornflakes can make them a bit crumbly. If you're using a premade flour that already has a gum ingredient (check the packet) then you won't need to add the Xanthan gum.
Cocoa Powder – Use your favourite cocoa powder for these. I'm a big fan of Dutch-processed cocoa for the flavour and dark colour, but most Mums and Grandmas probably just used regular natural cocoa powder.
Butter – Use salted or unsalted, your choice. I usually use regular salted butter.
Brown Sugar + White Sugar – I like using a combination of sugars in these biscuits. The brown sugar gives them more flavour and holds in a little more moisture and the white sugar allows them to spread a little bit more and helps the edges get crunchy. For the white sugar you can use either regular granulated sugar or caster sugar. If you don't have both brown sugar and white sugar, just use 150g of whichever you have.
Egg – Um, yep, just a large egg. Not much more to say on that.
Vanilla Extract – Any vanilla will do here. If you have vanilla extract, cool. Vanilla paste? Also cool.
Gluten-Free Cornflakes – This is probably the only ingredient that really needs a note attached to it – make sure you're buying gluten-free cornflakes. Most regular cornflakes are not GF, they often contain barley for flavouring and barley contains gluten. So head to the gluten-free cereal section of your supermarket and grab a box of gluten-free cornflakes.
If you don't have gf cornflakes, you could use some gluten free Weetbix instead – you'll need around 5 Weetbix.
Walnuts – This one is controversial, to walnut or not to walnut? My thoughts – if you like em' with a walnut on top, then put a walnut on top. Walnuts not for you? Allergic to nuts? Leave 'em out.
For the icing, you'll also need icing sugar (check that it's gluten free!), more cocoa, more butter and some hot water. If you like extra-shiny icing, you can add in a spoonful of corn syrup or liquid glucose. But only if you have them on hand and will use them for other things. I'm not sending you out to buy corn syrup just for this one recipe.
I haven't tested these yet with substitutions for other allergies, but I think it would be pretty easy to substitute the butter for dairy-free butter, just make sure you choose one that says it's suitable for baking. I'm not super familiar with egg substitutes, but if you give these a go with one, I'd love to know how you get on!
Making the Biscuits
Making gluten free Afghan biscuits is pretty standard as far as biscuit recipes go. I make these in my stand mixer because I have it and I have weak arms, but you can use a handheld beater, or even cream it by hand if you have the arm strength and willpower.
You'll need to cream the butter, sugar and vanilla, and mix in the egg. Once that's all combined you can go ahead and add in the cornflakes. You can crush them a little first if you want, but I find that mixing them in using the stand mixer crushes them up a bit and that's enough for me. If you're using a hand-held mixer you'll need to stir the cornflakes in my hand. Your mixer won't appreciate the cornflakes.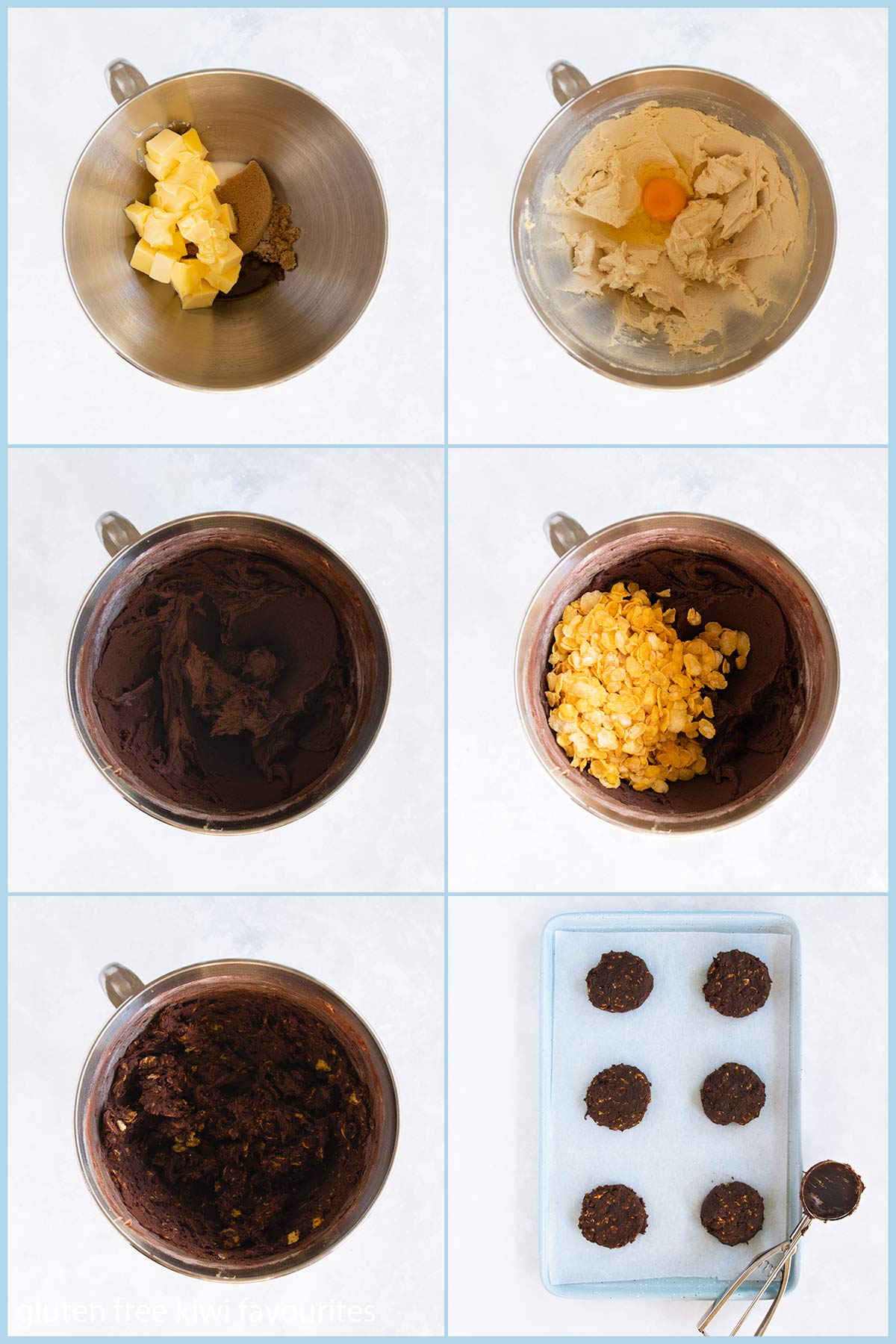 Then you can portion out your biscuits and bake them. The number of biscuits you'll get from this recipe depends on how big you make them. I like big ol' bikkies so I made 12 biscuits using a 1/4 cup ice cream scoop. For smaller biscuits, you can use two spoons to dollop about a tablespoon of dough for each biscuit onto the tray, and you'll get around 18 biscuits. If you want super round biscuits you may want to chill the dough a bit and then roll it into balls. I'm ok with a more rustic-looking Afghan though so dollops are all good here.
Once they've baked and cooled, you can spread over a nice thick layer of chocolate icing. And then eat 'em.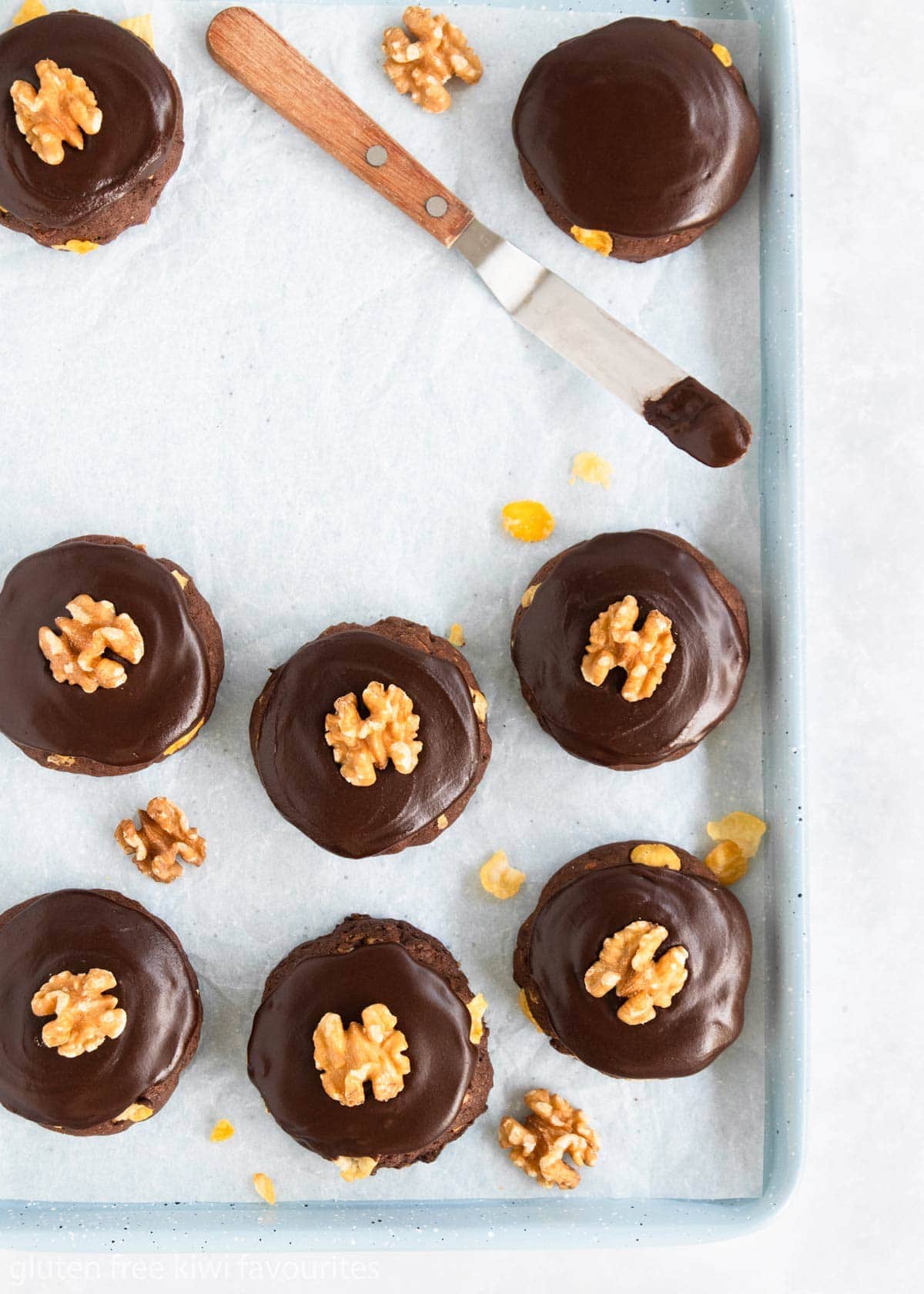 You can wait for the icing to set, but if your family is anything like mine, half of them will be gone before the icing even has time to think about setting. And there ain't anything wrong with that.
Are you new to gluten-free baking?
Or just need some tips on how to make the most of the recipes on GFKF? Check out my start guide to learn how to bake safely and successfully gluten free.

Allergen safety ✔️ Gluten free flour info ✔️
Accurate measuring ✔️ Tools + Equipment ✔️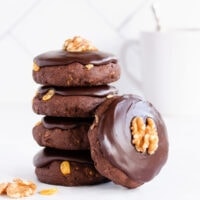 Gluten Free Afghan Biscuits
These gluten free Afghan biscuits are everything we love about traditional Afghan biscuits. Eeasy to make, rich and chocolatey, studded with crunchy cornflakes and smothered in a thick layer of chocolate icing.
Print Recipe
Pin Recipe
Ingredients
200

g

butter

,

softened

75

g

brown sugar

75

g

white sugar

1

teaspoon

vanilla extract or vanilla paste

1

large egg

,

at room temperature

250

g

gluten free flour*

1

teaspoon

xanthan gum**

50

g

cocoa powder

80

g

gluten free cornflakes

,

(2 cups)
For the Icing
300

g

icing sugar

25

g

cocoa powder

25

g

butter

,

melted

1

teaspoon

vanilla extract

2-3

tablespoons

water

12

walnuts

,

to decorate, optional
Instructions
Heat the oven to 180°C. Line two baking trays with non-stick baking paper.

Using a stand mixer or handheld electric mixer, beat the softened butter, brown sugar, white sugar and vanilla until creamy and lighter in colour. Scrape down the sides of the bowl, and then add in the egg and mix on low speed until combined.

Sift in the flour, xanthan gum and cocoa and mix slowly to combine. You can do this in two additions if you are using the mixer and don't want to make a mess.

Mix in the cornflakes until well distributed. Make sure you stir right down to the bottom of the bowl.

Place dollops of dough onto the prepared trays, leaving space for a little spreading. For large biscuits, use approx. 1/4c of dough for each one. You will get 12 biscuits. If you want smaller biscuits, use heaped tablespoonfuls of dough. You'll get around 18 biscuits.

Bake for 12-15 minutes, depending on the size of your biscuits. They should be just starting to darken at the edges. Allow to cool for 5 minutes on the trays, then carefully transfer to a cooling rack.

Once the biscuits have cooled, make the icing. Sift together the icing sugar and cocoa, then mix in the melted butter and a tablespoon of the water. Add the water a little at a time until the icing becomes a spreadable consistency. If you accidentally add too much water and the icing is too runny, add a bit more sifted icing sugar to thicken it. Spread onto the biscuits and allow them to set.

Store the biscuits in an airtight container at room temperature.
Notes
*I use my favourite gluten-free flour blend to make these biscuits, but you can use your own favourite GF flour. It is correct that there is no baking powder or soda in this recipe, Afghans don't need it.
**If you're using a pre-made gluten-free flour blend that contains a gum ingredient (usually listed as xanthan gum, guar gum or "thickener" in the ingredients on the packet) then you can omit the xanthan gum from this recipe
For extra shiny icing, you can add a tablespoon of corn syrup or liquid glucose when you add the water.
You May Also Like…