Gluten Free Ginger Crunch
This easy gluten free ginger crunch is a true Kiwi classic. A crunchy golden base with a nice thick layer of spicy ginger icing. It's hard to stop at just one piece!
I don't know if it's just because I'm a redhead and therefore have a natural affinity for ginger, but I am a huge fan of ginger crunch.
The crunchy base with a slab of thick icing on top, with a spicy ginger punch that cuts through the sweetness, it's true perfection in my book.
It took a bit of work to get a gluten-free ginger crunch recipe that I was happy with. There were a few sad, crumbly attempts that tasted pretty great but were otherwise a mess. They didn't go to waste – my dad is a huge fan too so he made short work of the failures, but I really wanted to nail down a recipe that held together and was truly crunchy and not super crumbly.
So here we are with a ginger crunch recipe that ticks all the boxes!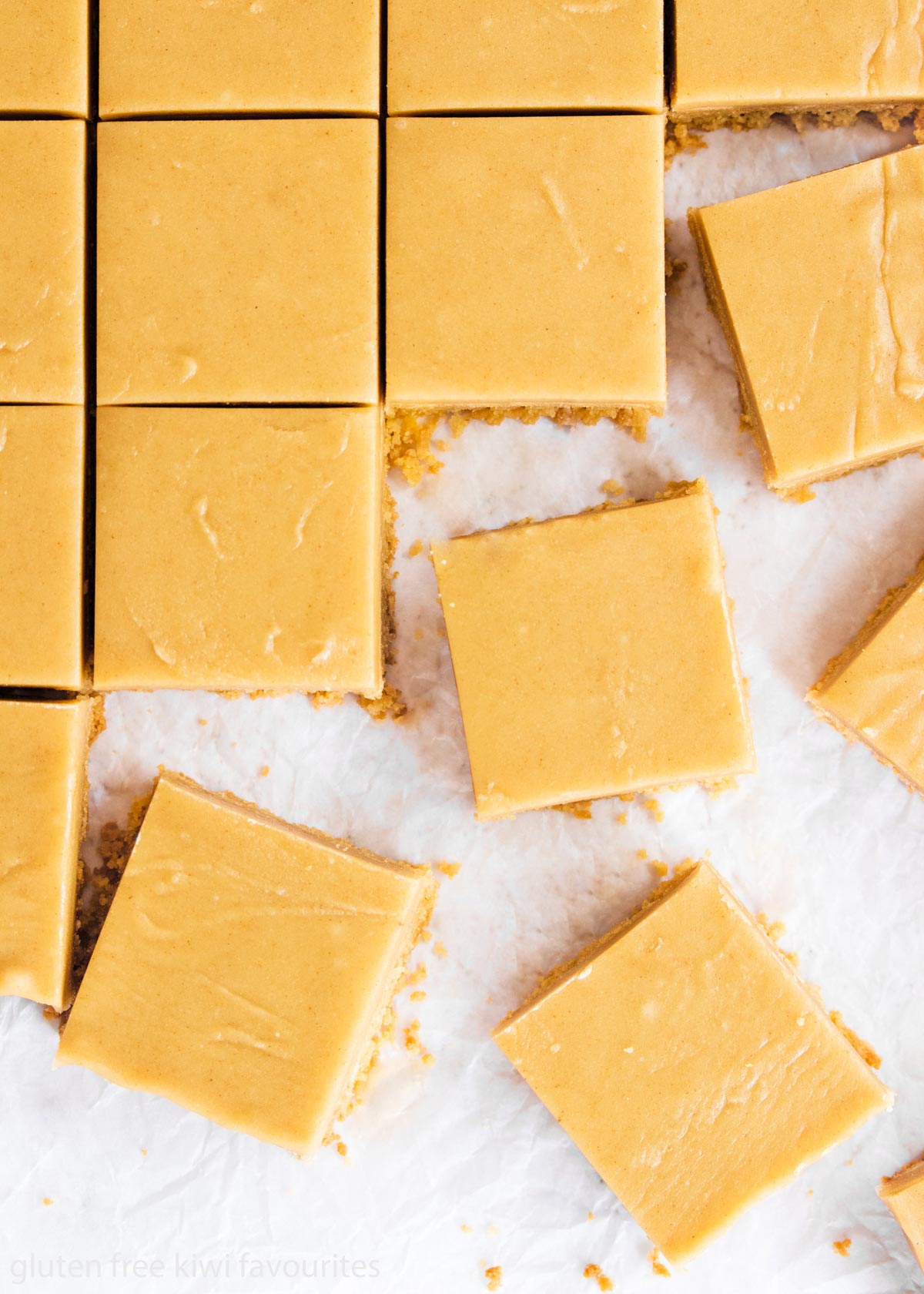 Ingredient Notes:
You've got the usual suspects in this recipe: butter, brown sugar, baking powder, ground ginger, golden syrup, icing sugar and some water, but I want to make a couple of notes about the two important gluten free ingredients – gluten free flour (of course) and xanthan gum.
I have my own favourite homemade gluten free baking flour blend that I use to develop and test all my recipes on both of my websites. I love it, it works exceptionally well, and it only has three component flours to make it – tapioca starch, brown rice flour and potato starch. They all work together to make an amazingly versatile flour blend that I find works well in every baking recipe that I use it in. This will always be the blend that I recommend above all others for use in my recipes.
I know some people may not want to, or may not be ready to start mixing up their own gluten-free flour, and I get that. So I've tested this recipe with Edmonds gluten-free flour blend, and it works pretty nicely here too.
When using my gf flour blend, you'll need to add some xanthan gum to the ginger crunch base. Xanthan gum helps to bind the ingredients together in place of gluten, and it's an important factor in preventing a crumbly base.
If you're using any pre-prepared/shop-bought gluten-free flour blend, you'll need to check the ingredients on the back – if it includes a gum ingredient (usually xanthan or guar gum, or sometimes just "vegetable gum") then you can omit the xanthan gum from the recipe.
How to Make Gluten Free Ginger Crunch
First you'll prep the pan, I find it easiest to use two long strips of baking paper the width of the tin, then overlap them in a cross shape and clip them in place. This way it's easy to lift the slice out once it's set.
The clips are optional – you can spray the pan with baking spray to stick the baking paper down, but I'm lazy and hate washing a greasy tin, so I just clip it down. You do what works for you, though.
The recipe itself is every bit as easy to make as any classic ginger crunch. In this one, we're melting the butter (I discovered that this is one of the keys to avoiding crumbles!), mixing in the brown sugar, and then sifting in the rest of the dry ingredients.
Spread it evenly into the tin, I like to use an offset spatula, but you could also use the back of a spoon.
Then it gets baked until it's golden brown on the edges. Don't under-bake this one – the more golden it is, the crunchier it will be.
When the base is almost finished baking, we mix up the icing. The butter, golden syrup and water get heated until the butter melts, then mixed with the sifted icing sugar and more ground ginger. I love this super spicy, but I've added notes in the recipe for toning down the ginger if you like it milder.
In my process pictures, I missed photographing an important step in this process. After taking the base out of the oven, it's helpful to gently press it down with the back of a spoon or the bottom of a glass. This helps compact the crumb, and make it crunchier + hold together better.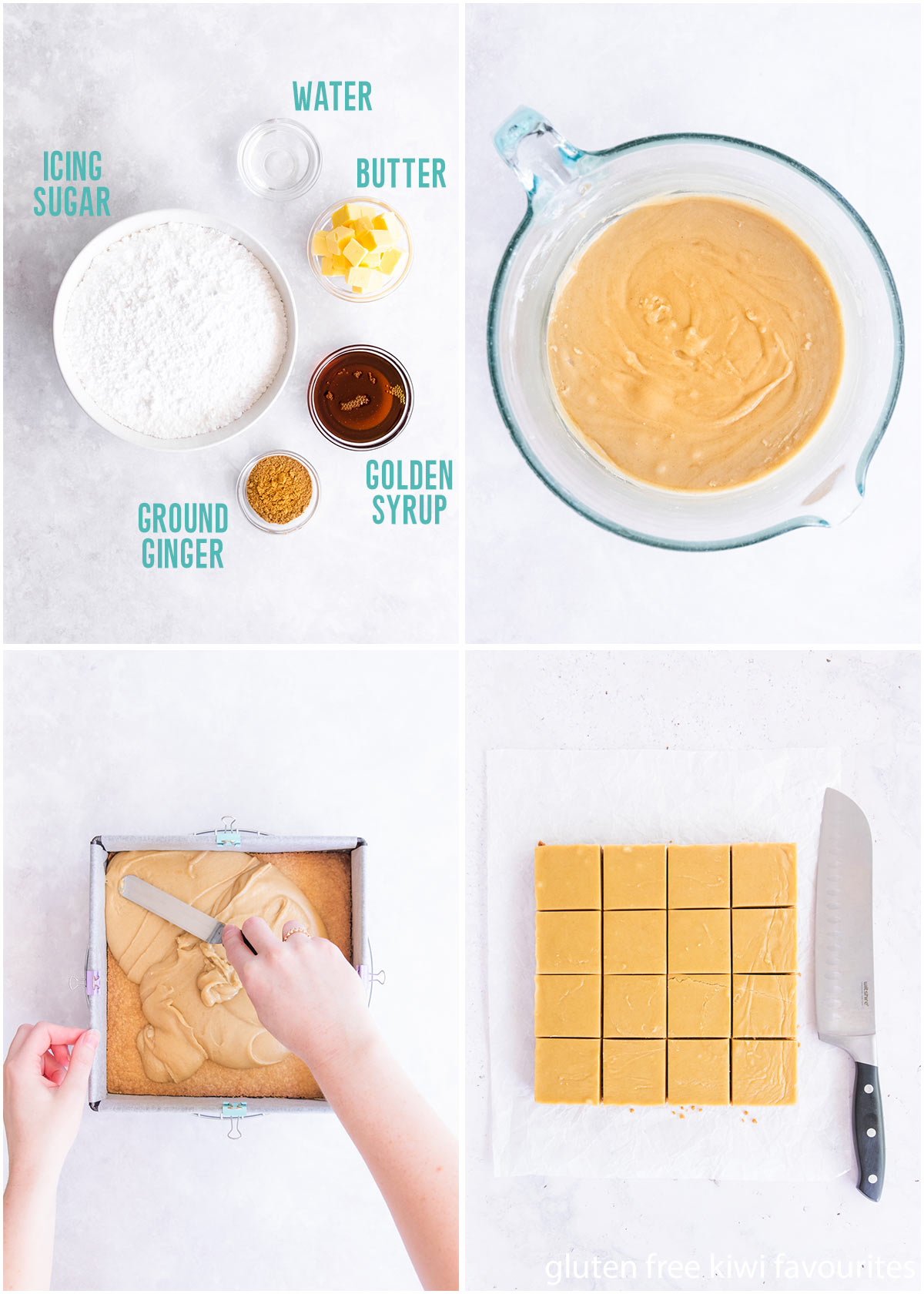 Then all that's left to do is slather the icing onto the hot base once it comes out of the oven, then let it cool, slice it up, and eat it!
More Gluten Free Slice Recipes
Gluten Free Belgian Slice
Gluten Free Weetbix Slice
Gluten Free Rice Bubble Marshmallow Slice
Are you new to gluten-free baking?
Or just need some tips on how to make the most of the recipes on GFKF? Check out my start guide to learn how to bake safely and successfully gluten free.

Allergen safety ✔️ Gluten free flour info ✔️
Accurate measuring ✔️ Tools + Equipment ✔️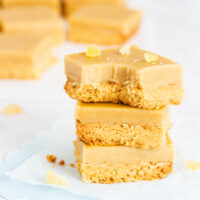 Gluten Free Ginger Crunch
A crunchy Kiwi classic, this gluten free ginger crunch is nicely spicy with a super thick layer of icing!
Print Recipe
Pin Recipe
Ingredients
Base
200

g

butter

225

g

gluten free flour

80

g

brown sugar

2

teaspoons

ground ginger

¾

teaspoon

baking powder

¾

teaspoon

xanthan gum
Icing
60

g

butter

3

Tablespoons

water

3

Tablespoons

golden syrup

450

g

icing sugar

4 – 5

teaspoons

ground ginger

Optional: chopped glacé ginger

,

to decorate.
Instructions
Heat the oven to 180°C (170° fan forced).

Line a 20cm square cake pan or equivalent sized slice tin with baking paper. Use two long strips in a cross shape, leaving an overhang on each side, so you can lift the slice out later. I like to clip the ends down with binder clips so they don't flap around.

In a medium-sized heatproof bowl microwave the butter in short bursts until just melted. Stir in the sugar, then sift in the gluten-free flour, ginger, baking powder and xanthan gum. Stir until well combined. The mixture should look like suuuuper soft cookie dough.

Spread the mix evenly into the cake pan or slice tin. An offset spatula works well, otherwise, the back of a spoon will do the trick nicely too.

Bake for 30 minutes, or until golden at the edges and no longer shiny in the middle.

While the base bakes, prepare the ingredients for the icing.

When the base is almost ready, place the butter, water and golden syrup into a medium-sized heatproof jug or bowl and microwave until the butter is just melted. Sift in the icing sugar and ground ginger, then mix until well combined. Give it a taste, if it's not ginger-y enough for you, add a bit more ground ginger.

When the base comes out of the oven, carefully spoon over the icing, and spread it out evenly. Sprinkle with chopped glacé ginger, if desired.

Leave to set completely, it's best to do this at room temperature, but if you're in a hurry, you can pop it in the fridge for a bit. Slice into squares using a large sharp knife.

Store in an airtight container. Keeps for ages… if it doesn't get eaten first!
Notes
I get the best results for this slice using my homemade gluten free baking flour blend. I have also tested the recipe with Edmonds flour mix and had good results.
I love a spicy ginger crunch, but I know not everyone likes it as zingy as I do. I have given a range of 4 – 5 teaspoons in the recipe, I like to use 5 teaspoons, but if you like it less ginger-y, then feel free to start at 4 or even 3 teaspoons, and adjust it to your own tastes.