Gluten Free Anzac Biscuits – No Oats!
All the rich, golden flavour of a classic Anzac biscuit with a gluten free twist. These 100% gluten free Anzac Biscuits are also oat free, and egg free too!
When it comes to quintessential Kiwi recipes, ANZAC biscuits have to be right up there towards the top of the list, right?
I have, on more than one occasion, consumed them for breakfast using the reasoning that it's basically cereal in biscuit form.
But whether you're eating them for breakfast, or for morning or afternoon tea with a nice cuppa, there's no denying that these are a huge favourite in many Kiwi and Aussie households.
Today I'm sharing with you a recipe for these gluten and oat free Anzac biscuits.
Before we talk any more about the recipe, we need to talk about the oaty elephant in the room.
Can You Make Anzac Biscuits Without Oats?
If you've ever had a traditional Anzac biscuit, you'll know – oats are one of the main ingredients.
But, as you may or may not know, oats are generally not recommended to be consumed as part of a gluten-free diet for people with Coeliac disease.
There are a couple of reasons for this, the first is that most oats are potentially contaminated with other gluten-containing cereals (wheat, barley, etc.) during growing, harvesting and processing. The other is that oats contain a protein called avenin which, in some people, can trigger the same symptoms that gluten does.
Coeliac New Zealand recommends that those with Coeliac disease do not consume oats, as it can be impossible to tell whether the oats are triggering symptoms in the gut.
I do have a recipe for gluten free Anzac biscuits with oats over on my other website, Sweetness and Bite, and I have a variation of that recipe using quinoa flakes. But here's the thing – while quinoa flakes are the most similar product in terms of looks and texture, they have a very, very strong quinoa taste. Which I actually quite like when it comes to eating actual quinoa, but I'm just not the hugest fan of it in biscuits.
So what do we use instead? Am I going to send you out to buy some strange and hard to find ingredients?
Nope, it's easy, we're using… gluten-free cornflakes!
When crushed to a similar size to oats, the cornflakes provide the same bulk and a similar texture to oats, but they don't add any flavour to the biscuits, meaning that the traditional golden-syrupy, brown sugar-y Anzac biscuit taste shines through. And they're 100% gluten free.
You do need to make sure you buy gluten free cornflakes – while you'd think most cornflakes would be gluten free (they're made from corn, after all) alas they're usually not. Many brands of cornflakes add malt barley flavouring, which is not safe for Coeliacs. You'll usually find the gluten free cornflakes in the gluten free aisle at the supermarket.
Update: You can also make these using gluten free Weet-Bix instead of cornflakes! It results in a texture a little more similar to the traditional Anzac biscuit, although the flavour isn't quite as strongly Anzac biscuit because the flavour of the weet-bix comes through more than the cornflake version. But if you like GF weet-bix, or want a biscuit with a little more fibre, then the Weet-bix version is a great option.
You'll need to tweak a couple things for the Weet-bix version, so make sure you check out the notes section in the recipe card.
We'll be using gluten free flour in these biscuits, of course, but the rest of the ingredients are 100% true to the original Anzac biscuit recipe:
Gluten Free Anzac Biscuit Ingredients:
Ok, now we've covered that, let's talk about making the biscuits!
How to Make Gluten and Oat Free Anzac Biscuits
First off, you'll need to crush the cornflakes. You can do this in a food processor if you prefer, but I like to use a good old fashioned snaplock bag and a rolling pin. As long as you're gentle, you can save the bag and reuse it next time.
You're aiming to crush them to around the same size as rolled oats. if you're using Weet-bix, you can just crush them using your hands.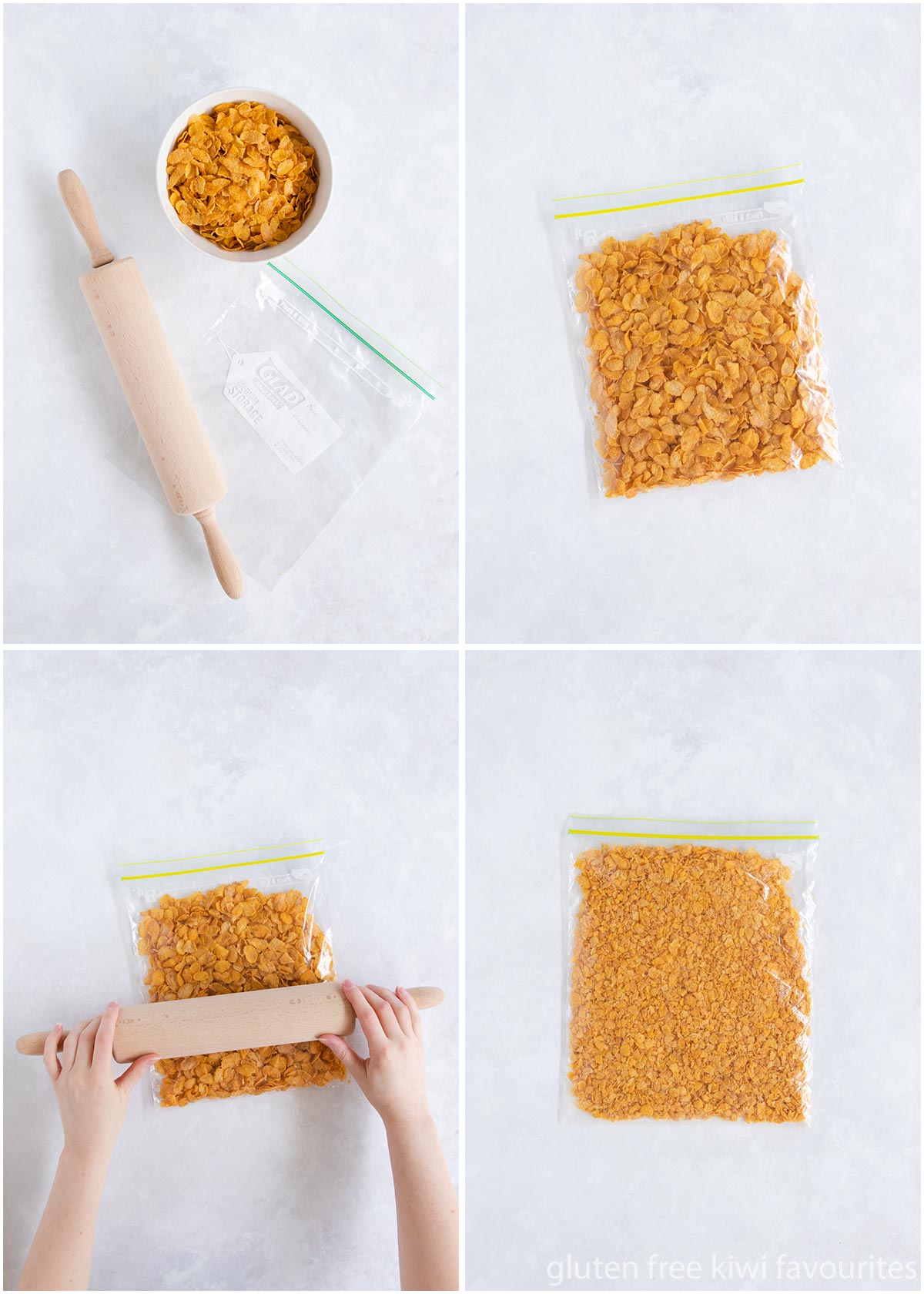 After that, it's basically a melt-and-mix biscuit dough. Easy as.
You'll start by mixing together the dry ingredients. Then the butter, golden syrup and some water are melted together, either on the stove or in the microwave.
Once it's hot, stir in the baking soda, let it get fizzy, and then mix it into the dry ingredients.
Then you can roll the dough into balls. It'll be a little bit crumbly, which is ok, but if it's too crumbly you can add a splash of water or a little more melted butter to help it come together. Because gluten-free flours absorb different amounts of liquids, sometimes you just need to add a little more moisture.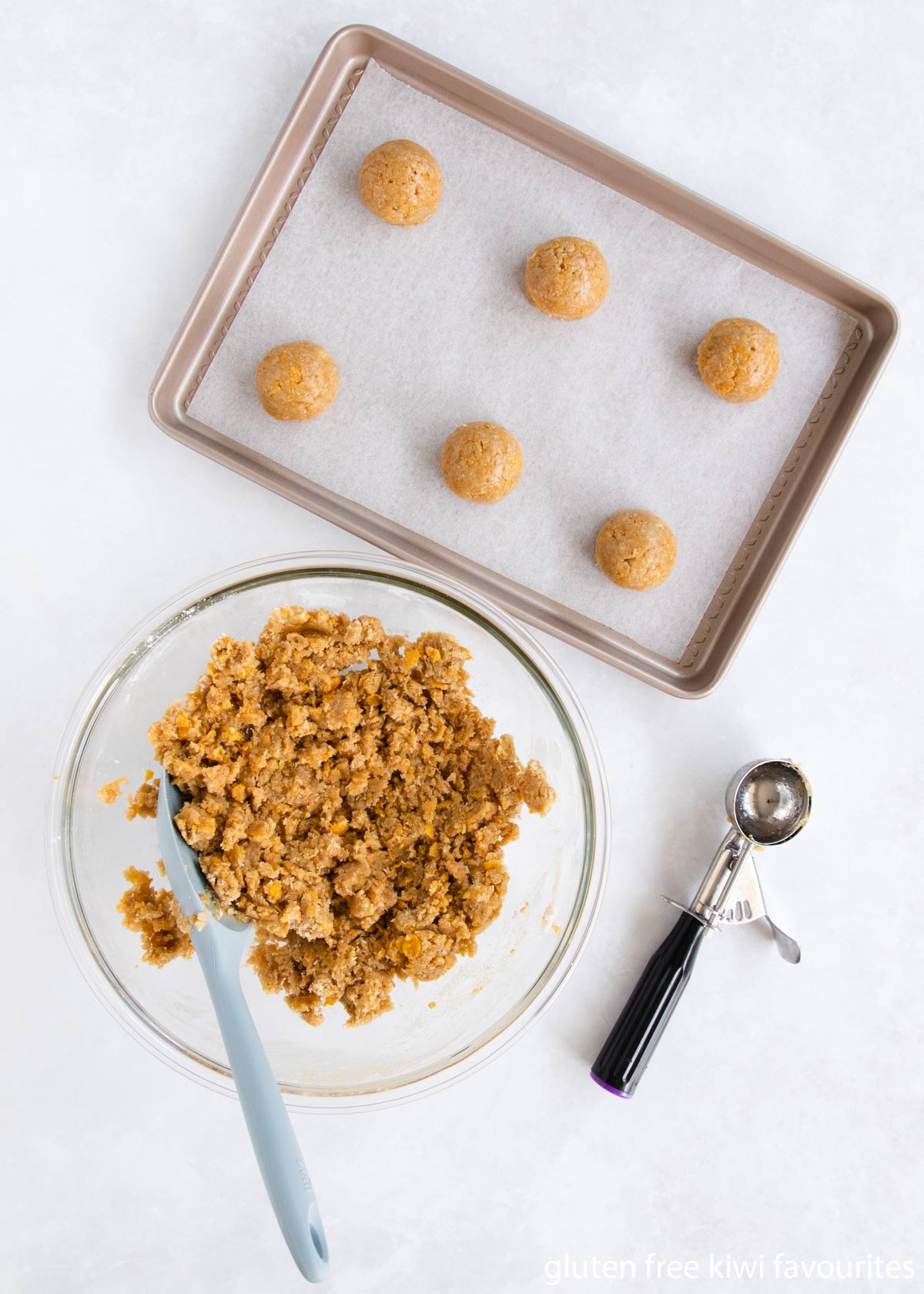 Flatten the balls of dough, then pop 'em in the oven to bake.
You can choose whether you want chewy or crunchy Anzac biscuits by altering the baking time. Bake a little less for chewy and a little longer for crunchy.
When the biscuits come out of the oven, I like to use the "cookie scoot" trick that I learnt from Cloudy Kitchen, which makes the biscuits nicely round. You can skip this step if you don't care about round biscuits, they taste the same either way!
But if you do want them to be round, simply grab a round cookie cutter that's just a little bit bigger than the biscuits, then as soon as they come out of the oven, pop the cutter over the top and swirl it around to round off the edges.
Exactly how long the biscuits will keep for is a tricky thing for me to say, because we tend to eat them all pretty quickly in this house. But they should last a good 2 weeks at least in an airtight container, likely even longer.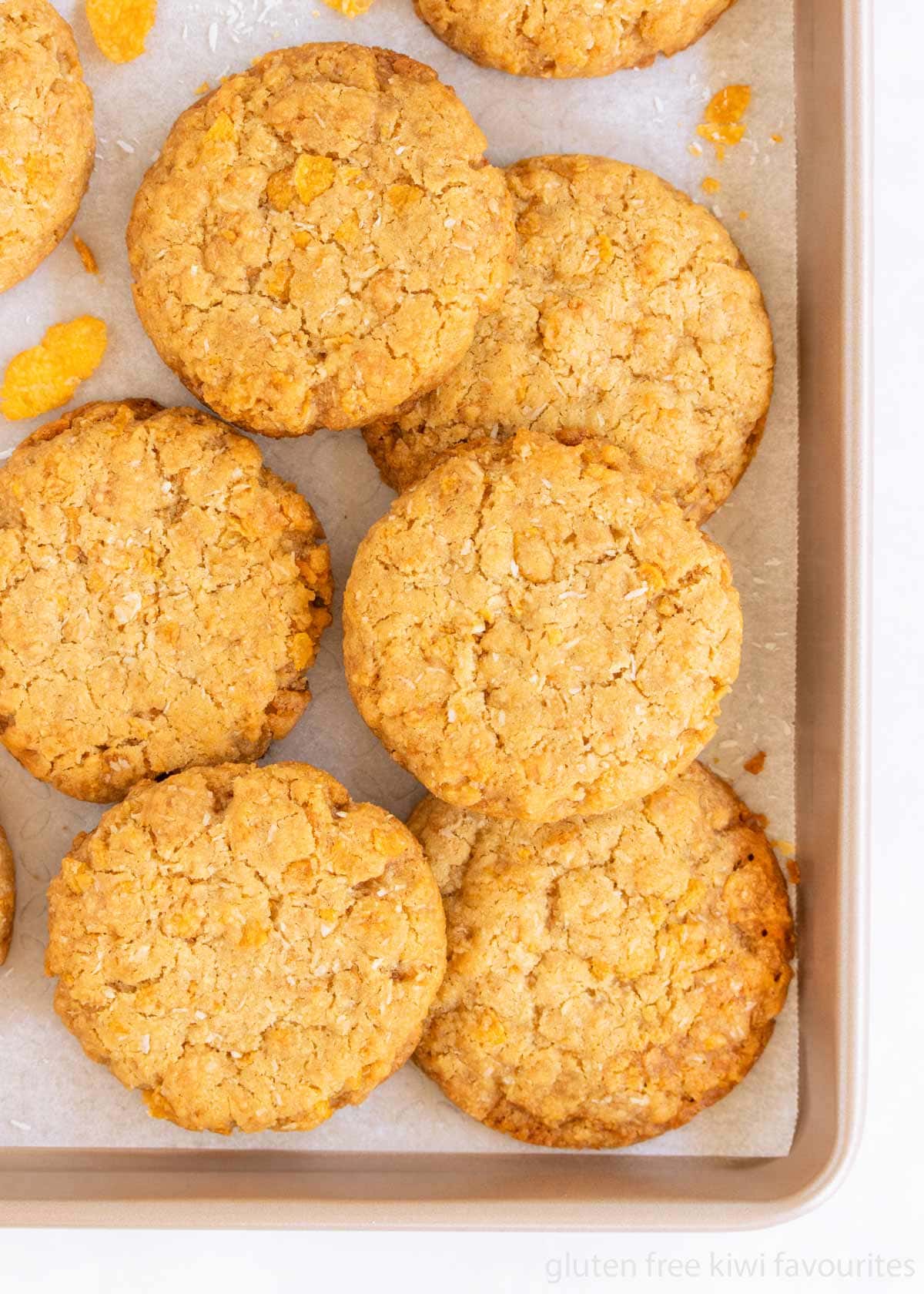 If you're a crunchy Anzac biscuit fan and have baked them until crisp, they do tend to lose their crispness over time. If that happens, you can pop them back in the oven on low heat (100°C) for ten minutes or so to dry them out and crisp them back up.
Enjoy!
-Natalie