Gluten Free Peanut Brownies
These gluten free peanut brownies are a rich chocolate biscuit studded with crunchy peanuts. The perfect baking tin filler or after school snack with a big ol' glass of milk.
I don't know if anyone else cycles through phases of biscuits, but I went through a phase years ago where I ate a lot of peanut brownies, then didn't eat them again for years. In fact, until recently I hadn't had a peanut brownie since going gluten free.
That's all changed now though with this recipe. I had a hankering for some gluten free peanut brownies, so I got to work on a recipe. I have made this recipe multiple times now to test and tweak it, so I'm reliving my peanut brownie phase all over again.
What are Peanut Brownies?
If you're not familiar with peanut brownie biscuits, you may be picturing an American style brownie – soft and fudgy – but that's not it.
Peanut brownies are chocolate biscuits studded with crunchy peanuts. The biscuit texture can be either soft or crunchy – we like them crunchy in our house.
They're super easy to make, so they are an excellent recipe to fill the baking tins at the start of the week. You can easily double or triple the recipe to feed a crowd.
Here's what you'll need to make these gluten free peanut brownies:
GF Peanut Brownie Ingredients
Peanuts – There are several kinds of peanuts that will work in this recipe. I used roasted salted peanuts because I like the salt with the sweet biscuit. But you can also use plain roasted peanuts with the skin removed, natural peanuts with the skin on, or blanched peanuts. Natural peanuts and blanched peanuts don't have as strong a peanut flavour, but you can roast them on a tray in a 180℃ oven for 5-10 minutes first, if you like.
Butter – You can use salted or unsalted butter in this recipe, but if you choose to use salted peanuts you should use unsalted butter so the biscuits aren't too salty.
Sugar – You can use regular white sugar or caster sugar in this recipe.
Egg – You'll need one large (size 7) egg.
Gluten free flour – I used my favourite homemade gluten free flour blend, but you can use a premade blend if you prefer. Different flours may affect the texture of the finished biscuits.
Xanthan gum – This helps stop the biscuits from crumbling. If you use a premade gluten free flour blend that contains a gum ingredient, you don't need to add the xanthan gum.
Baking powder – Make sure you check that your baking powder is gluten free.
Cocoa – Use a good quality cocoa powder for the best flavour. Either regular cocoa or Dutch-processed ("Dutched") cocoa powder will work in this recipe.
Can you make peanut brownies without peanuts?
To be literal – no, but you can use this recipe to make cashew brownies, or almond brownies, or hazelnut brownies… you get the picture! Use any nut you like here if you don't want to (or can't) use peanuts. Again, you can use them raw, roasted, salted or not. If they're bigger nuts, you might want to roughly chop them before you add them to the biscuit dough.
How to Make Gluten Free Peanut Brownies
These are super quick and easy to make.
You'll start by sifting together the gluten free flour, cocoa, xanthan gum and baking powder, and giving it a good whisk to combine it all nicely.
Then beat the softened butter with the sugar until it's fluffy. You can do this with a handheld electric mixer, a stand mixer if you have one, or if you don't have either of those you can beat it with a wooden spoon and a strong arm 💪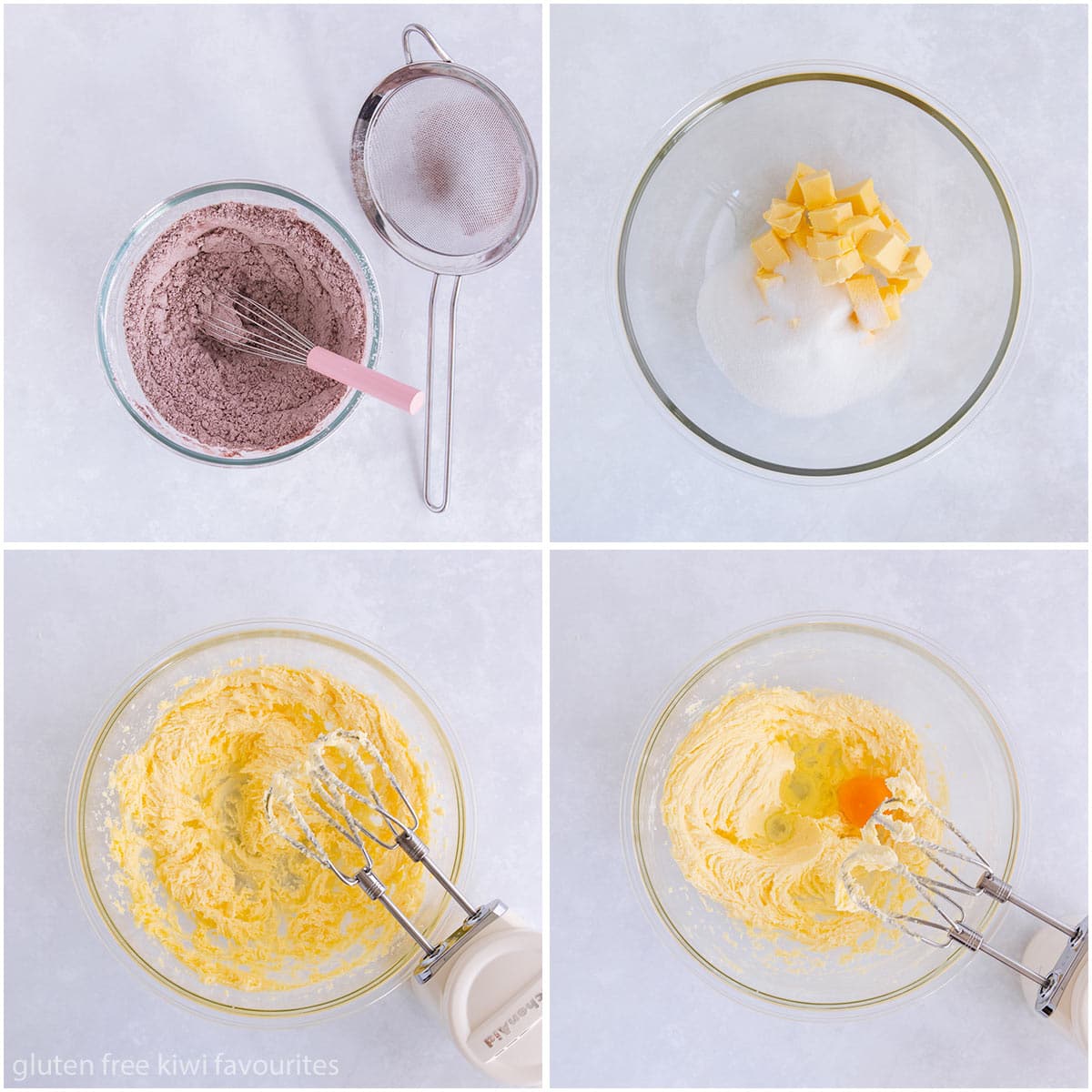 Next, you'll beat in the egg (don't panic if it curdles) and the dry ingredients, and stir in the peanuts.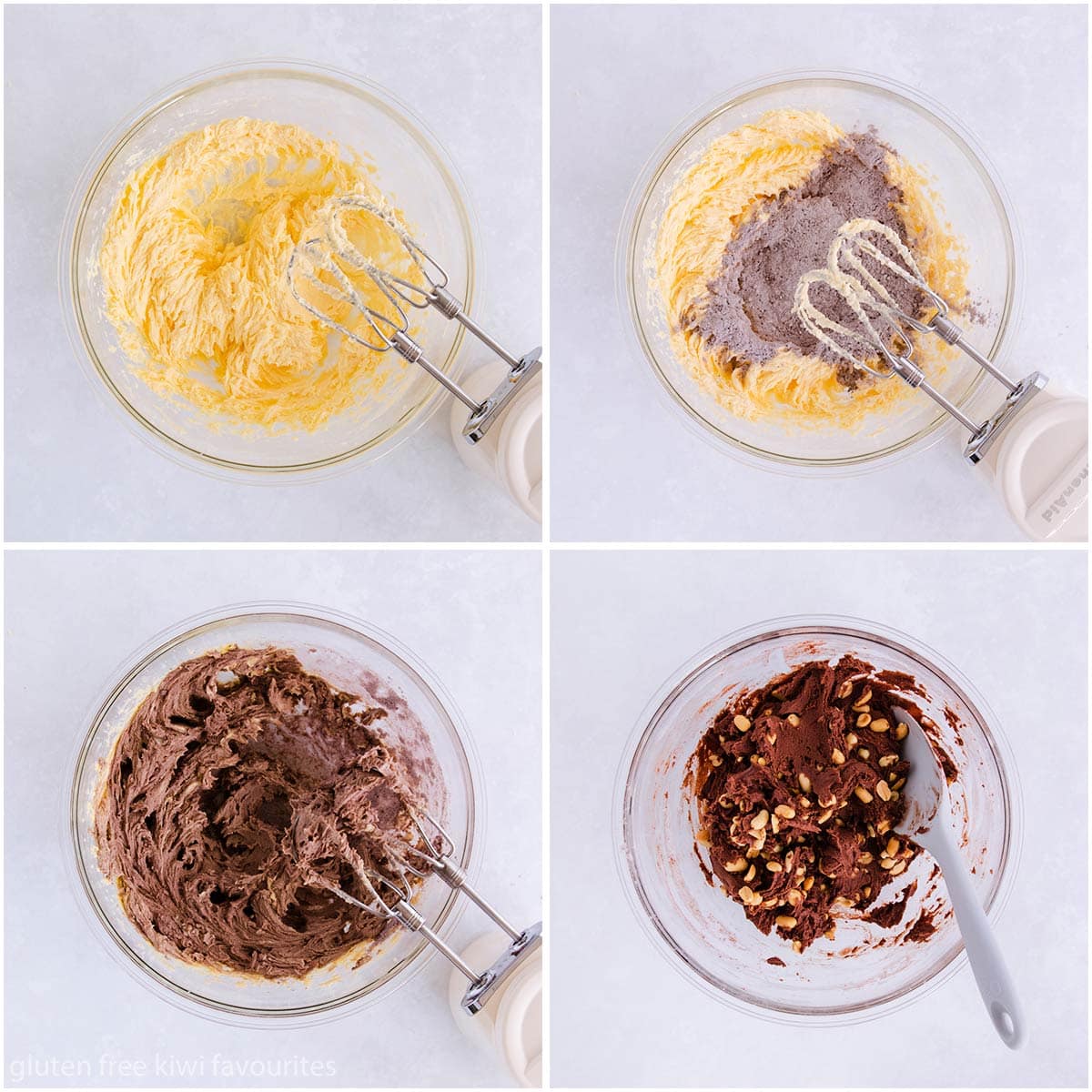 Pop the bowl of dough into the fridge for 10 minutes or so, until it firms up slightly. I like to use that time to tidy the bench and get the baking trays ready.
Then you'll roll tablespoonfuls of dough into balls and arrange them on the trays. Use a fork to flatten the dough in a criss-cross pattern (or just flatten them with the palm of your hand, if you're in a hurry).
Bake the biscuits for 12-14 minutes. The exact baking time will depend on your oven, but as a guide, 12 minutes should give you biscuits that are soft in the middle and crunchy at the edges, and 14 minutes will give you biscuits that are crunchy all over.
The biscuits will be quite soft when they come out of the oven, so let them cool for a bit on the trays before moving them to a wire rack to finish cooling.
Hopefully, you don't need the next instruction… you can go ahead and eat them now.
If you don't eat them all in one go, the biscuits will keep well in an airtight container for a week or so.