Gluten free rum balls are a quick and easy to make chocolate treat with basic fridge and pantry ingredients, plus a splash of rum. Kid-friendly recipe variation included.
These rum balls are a tweaked version of a recipe I have been making since I was a kid. It came from a super basic kid's microwave cooking book that my aunty gave me when I was still at primary school.
Fast forward, ahem, 20+ years and these little truffle balls are the one thing my Aunty asks for every birthday and Christmas. And I'm more than happy to oblige, since they're so easy to make… and enjoyable to snack on while I'm making them.
I'm pretty heavy handed with the rum in these, making them a decidedly adults-only sweet treat, but you can also nix the rum, add a small splash of vanilla extract instead, and feed them to the kiddos. My niece and nephews are pretty big fans of these, too.
Making Gluten Free Rum Balls
They're super easy to make and you'll only need some basic pantry and fridge ingredients: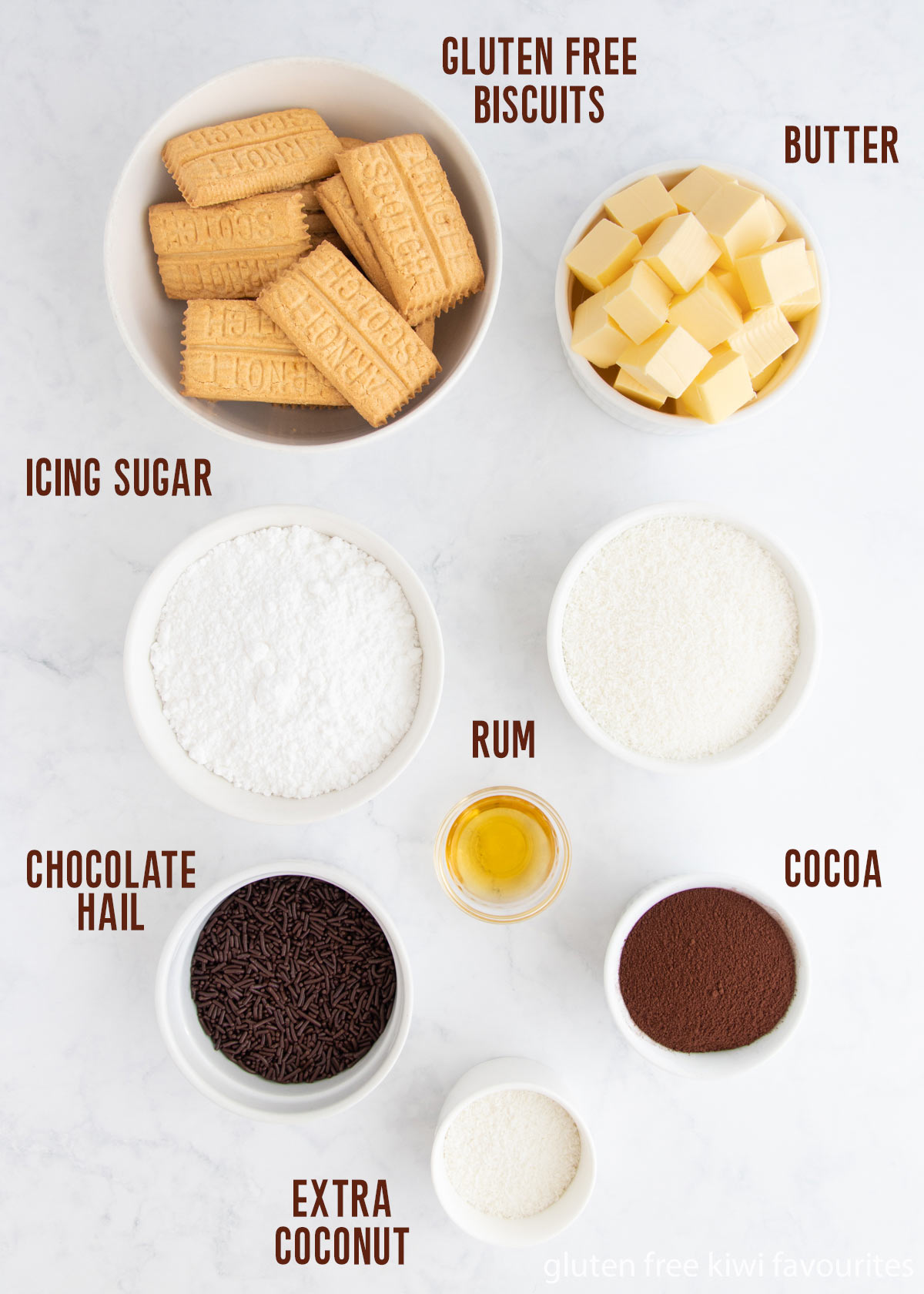 The ingredients are pretty self explanatory but I do want to make a couple of notes.
You can use whichever gluten free biscuits you like in this recipe. I used to use Arnott's rice cookies in these as they were wheat-free and available in most supermarkets around NZ, but unfortunately they have recently stopped making them 💔
Countdown Free From Gluten scotch finger biscuits are a great option, but really any gluten free plain or chocolate biscuits will work in this recipe. The biscuits are getting crushed anyway, so the texture of the biscuit doesn't really matter too much.
You can make these dairy free as well by replacing the butter with a dairy free butter substitute, Nuttelex or Bakel's Baker's Blend should do the trick. Make sure you also use dairy free biscuits, too!
It's a simple melt-and-mix recipe – the biscuits get crushed and all dry ingredients get mixed together, then the melted butter and rum are mixed in to form a thick, sticky mixture.
Then comes the fun bit – rolling the balls!
I use this handy 1 Tablespoon capacity cookie scoop to quickly portion out the truffle mix, but a heaped teaspoonful will give you roughly the same amount.
Then you just need to chill the balls until they firm up. Told you it was easy!
They keep for weeks in the fridge, and they can also be frozen, too. Just pop them in an airtight container first.
Yield: 44 truffles
Gluten Free Rum Balls
These gluten-free rum balls are a quick and easy to make chocolate treat with basic fridge and pantry ingredients, plus a splash of rum. Kid-friendly recipe variation included.
Ingredients
250g butter
250g gluten free vanilla or chocolate biscuits
100g (1 cup) desiccated coconut
250g (2 cups) icing sugar
60g (1/2 cup) cocoa powder
2 (or more!) teaspoons rum
OR
1 teaspoon vanilla extract + 1 teaspoon of water, for kid-friendly truffles
Extra coconut and/or chocolate sprinkles, for rolling*
Instructions
Chop the butter into pieces, place in a microwave-safe jug and microwave in 30-second bursts until just melted. Set aside to cool.
Crush the gluten-free biscuits. You can do this by placing them in a resealable plastic bag and whacking with a rolling pin, or alternatively place them in a large bowl and crush with the end of a rolling pin. I like to have them mostly crushed, but leaving some larger pieces is quite nice for a bit of crunch.
In a large bowl, place the crushed cookies and the coconut, then sift in the icing sugar and cocoa. Stir to combine.
Add the cooled melted butter and vanilla or rum. Stir to combine well. If the mixture looks too dry to roll into balls, then add a little more melted butter (or you can also add a splash of water). If it's too wet/soft, you can either add a few more crushed cookies or a little more icing sugar or alternatively place the bowl into the fridge for 10-15 minutes until it firms up. I usually put mine in the fridge and then use the time to tidy the bench and get ready for rolling the balls.
Line a baking tray with non-stick baking paper.
Place the extra coconut and/or chocolate sprinkles into small bowls. Roll heaped teaspoonsful of the truffle mixture into balls, then roll in the coconut or sprinkles and place on the tray.
Chill the balls until firm (around 20-30 minutes). Transfer to an airtight container, and store in the fridge. The balls will keep well for a couple of weeks. They can also be frozen for longer storage.
Notes
If you prefer, you can make these balls using a food processor. Place all the dry ingredients into the processor, then add the melted butter and vanilla or rum, and process until the biscuits are crushed and the mixture comes together.
This recipe makes quite a lot of rum balls but can be easily halved if you prefer.
I often make super rum-my balls at Christmas, by adding around 2-3 Tablespoons of rum and adding a few more crushed biscuits to keep the mixture stiff enough to roll.
* I like to roll half of the balls in coconut and half in chocolate sprinkles. It takes about 25g of coconut and 100g of sprinkles when using both.
Dairy-free option: Use a dairy-free butter substitute such as Nuttelex or Bakels Baker's Blend, and dairy-free biscuits.
Nutrition Information:
Yield:
22
Serving Size:
2 balls
Amount Per Serving:
Calories:

163
Total Fat:

12g
Saturated Fat:

8g
Trans Fat:

0g
Unsaturated Fat:

3g
Cholesterol:

25mg
Sodium:

99mg
Carbohydrates:

7g
Fiber:

1g
Sugar:

5g
Protein:

0g