Brandy snaps are a familiar sight on many Kiwi tables. These gluten-free brandy snaps are everything we love about a classic crunchy brandy snap, but in gluten-free form!
This recipe was originally posted on my other website Sweetness & Bite, but I knew when starting this website that I would definitely have to share it here, too.
While they may not have originated in New Zealand, I think it's safe to say that brandy snaps are a staple dessert on many Kiwi Christmas tables. Or birthday tables. Or, you know, casual Wednesday night tables.
Because desserts shouldn't just be for special occasions, amiright?
These gluten-free brandy snaps are, dare I say it, better than the usual brandy-snaps-in-a-box-whose-brand-I-won't-name-here. They're super light and lacy but sturdy enough to hold in a generous squeeze of whipped cream.
And you won't be opening a box to find broken snaps and bunch of crumbs, just sayin'.
Plus, I'm jumping ahead here, but you guys. This cream. Better. Than. Plain. Whipped. Cream.
That teaser aside, let's talk quickly about these brandy snaps.
Making them is relatively straightforward, but you are going to need to suss out what you're going to form your snaps around.
Most traditional brandy snap recipes call for forming them around the oiled handle of a wooden spoon. And you can most definitely do that. If you have a few wooden spoons or other round-handled utensils that you can use, then even better.
But what I use to make the snap-forming even easier, are cannoli tubes. A pack of non-stick cannoli tubes makes this process go a whole lot quicker. You can find them in most kitchenware stores, and many places online, too.
Making the brandy snap mixture is as easy as melting together butter, brown sugar and golden syrup, then letting it cool for a few minutes and stirring in the flour, ground ginger and cinnamon. Then it's time to bake them.
Once they come out of the oven, it's time to roll them. You'll slide the baking paper off your baking tray and onto your bench (pop a tea towel down first if your benchtop isn't heatproof, these babies are hot!). Once they have cooled slightly, you'll flip them over and roll them up.
You need to roll them once they've cooled enough to handle and they're firm enough to roll, but you can't wait too long or they will snap when you roll them. It only takes a few to get the hang of it, and I like to rope in a friend (ahem, my mother) to help me roll. If we do two each, they all get rolled before they're too firm.
Plus, you know, "family bonding" and whatnot.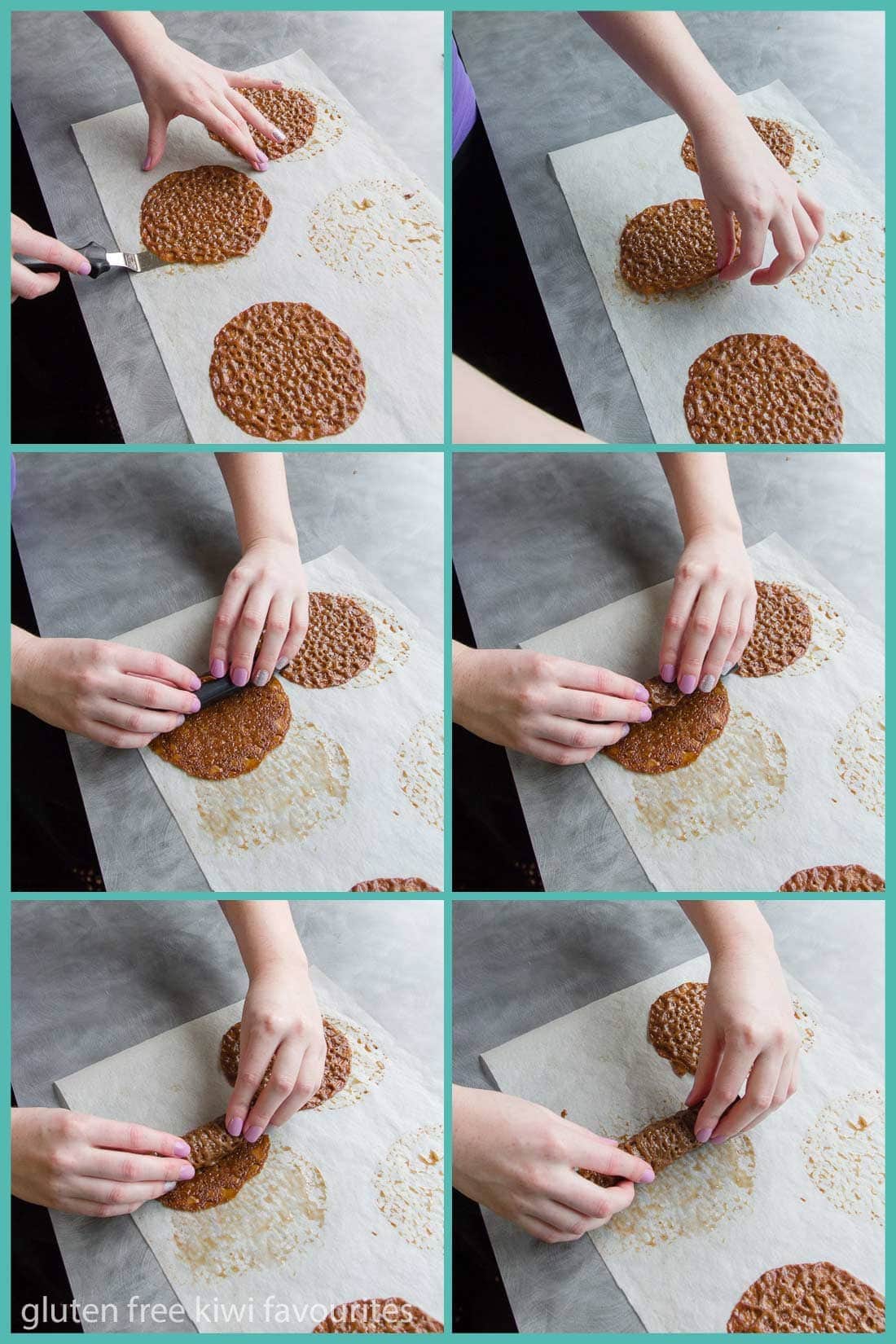 Once you get the hang of making these, it's very easy to get into a rhythm. As you take each tray of snaps out, you can pop another tray in. By the time you've rolled the baked snaps, they've cooled for a minute or two and you've slid them off the tubes, the next tray should be almost finished baking.
If the snaps have firmed up too much and are breaking as you roll, you can pop them back on a warm baking tray and they should soften up again.
Once cool, you can fill the brandy snaps with cream.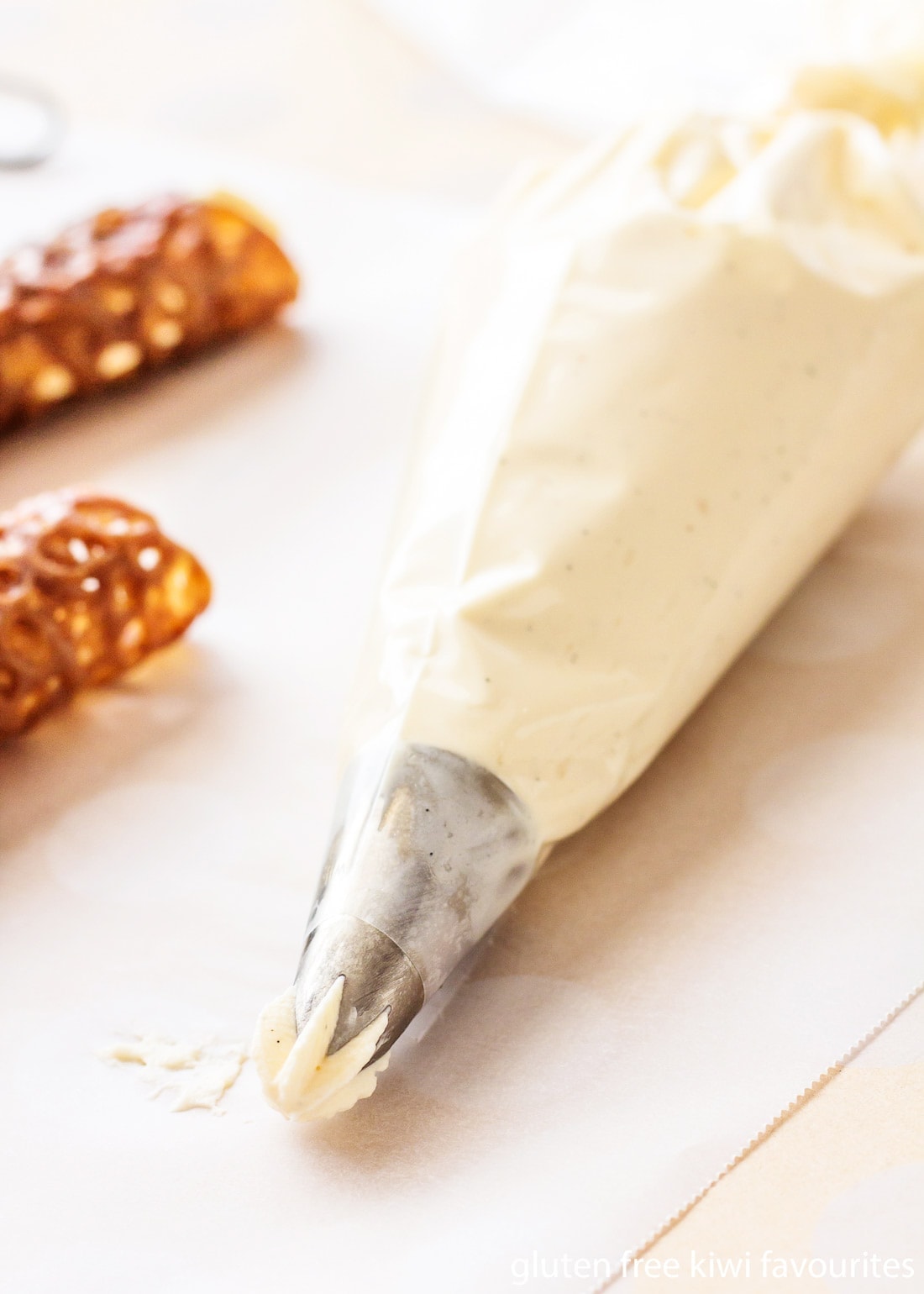 Right, let's talk about this whipped cream.
It's basically the love child of whipped cream and tiramisu filling. After making a little too much tiramisu filling at Christmas one year, we had some left over in the fridge. Somehow the stars aligned and we decided to add it to some whipped cream, and it turned out to be the best thing since, well, whatever you think is The Best Thing. It's amazing.
I adapted it into a whipped cream recipe, where we basically whip egg yolks and sugar over a water bath (don't panic – easier than it sounds) then mix in some mascarpone, vanilla and whipped cream.
It turns the cream from plain and basic into a spectacular filling for the gluten free brandy snaps (or anything, really). It's silky, and the mascarpone cuts through the sweetness, making it scarily easy to just eat spoonfuls of it straight from the bowl.
I'm not saying I do that.
I'm not saying I don't, either.
You can, of course, just fill these brandy snaps with regular whipped cream, so I've split the recipe into two parts in case you just want to do that.

But I do highly, highly recommend trying them together.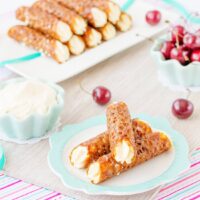 Gluten Free Brandy Snaps
Brandy snaps are a familiar sight on many Kiwi tables. These gluten-free brandy snaps are everything we love about a classic crunchy brandy snap, but in gluten-free form!
Print Recipe
Pin Recipe
Ingredients
110

g

butter

110

g

brown sugar

110

g

golden syrup

50

g

brown rice flour

50

g

tapioca flour

3

teaspoons

ground cinnamon

2

teaspoons

ground ginger

Whipped cream

to serve – see below for my Ultimate Whipped Cream recipe!
Instructions
Preheat oven to 180° Celsius. Line baking trays with non stick baking paper (use as many trays as you have).

Heat the butter, brown sugar and golden syrup in a small saucepan over low heat, stirring often, until the sugar is mostly dissolved and the mixture is smooth. Don't let it boil, and don't rush it, it will take about 10 minutes for the sugar to dissolve. Transfer to a heatproof bowl and leave to cool for 5 minutes.

While it's cooling, sift together the brown rice flour, tapioca flour, cinnamon and ginger into a small bowl and whisk to combine.

Stir the dry ingredients into the wet until just combined. Drop teaspoons full of the mixture onto the baking trays – four on each tray, spacing them well apart as they will spread, a lot!

Place one tray at a time into the oven and bake for approximately 6 minutes, you want them to be bubbling all over and very slightly darkened at the edges.

While the snaps bake, prepare your moulds. If you're not using cannoli tubes then lightly grease the handle of a wooden spoon or similar. Ideally, you will need four of whatever you are using. If it isn't non-stick, then lightly grease it. Place the moulds and an offset spatula within easy reach of where you will be rolling the snaps. Take the tray of baked brandy snaps out of the oven, put the next tray in and re-set the timer.

Slide the baked snaps, paper and all, off onto a heatproof surface and leave for 30 seconds. Use a spatula to gently lift the edge of one brandy snap, you need them to be just cool enough to lift off the paper but still be warm enough to be pliable. Flip the snaps over (so the bubbly side will be facing out) and quickly roll each one around your cannoli tube or spoon handle. Place them join side down onto a wire rack to cool.

When they are cool enough to hold their shape, gently pull the mould out. Try to slide the tubes out before the snaps have cooled completely, this lessens the risk of breaking. You may need to wipe some excess butter off the moulds before you re-use them (but don't wipe it all off, that way you won't need to re-grease them).

Continue baking the rest of the snaps. You can spoon more mixture onto the trays (re-lined with baking paper) when they are still hot from the oven – while the butter will start melting straight away, it doesn't affect the snaps. If you find the snaps have cooled too quickly and they're too firm to roll, place them back on the warm tray for a minute and try again. If they're still too firm, you can place the tray back in the oven for another minute to soften them.

Fill the brandy snaps with whipped cream. It's best to fill the brandy snaps just before you eat them as once filled they will soften within half an hour or so.

Unfilled snaps can be stored in an airtight container at room temperature for 2 – 3 days. Layer the snaps into the container between sheets of baking paper. I like to sprinkle a small amount of dry, uncooked rice onto the bottom of the container, then place a sheet of baking paper on top and begin adding the snaps – the rice will absorb any moisture in the container, keeping the snaps crisp.
Notes
Since the snaps need to be shaped while warm, only bake one tray at a time. To keep things moving, as you remove one tray from the oven place the next tray in and re-set the oven timer. This way you can crank out one tray every six or so minutes.
I use brown rice flour and tapioca flour, but you could try these using your favourite gluten free flour blend.
If you don't need the brandy snaps to be gluten free, replace the brown rice flour and tapioca flour with 100g of plain flour.
There are no eggs in the brandy snaps, but remember to use regular whipped cream, not the ultimate whipped cream recipe below if you can't have eggs.
Recipe adapted from Mary Berry's brandy snap recipe.
Ultimate Whipped Cream
The love child of whipped cream and tiramisu filling, this is the ultimate whipped cream.
Print Recipe
Pin Recipe
Ingredients
3

egg yolks

100

g

caster sugar

2

teaspoons

vanilla paste

or vanilla extract

200

g

mascarpone

400

ml

whipping cream
Instructions
Place the egg yolks and sugar in the top of a double boiler (or use a heatproof bowl on top of a pot with 1" of gently simmering water) and stir with a whisk for 10 minutes, or until the sugar has mostly dissolved and the mixture is warm.

Remove from the heat and beat with an electric mixer until pale in colour and the mixture forms thick ribbons when you lift the beaters. Beat in the vanilla extract and the mascarpone.

Whip the cream until stiff peaks are just beginning to form. Whip in the egg and mascarpone mixture until combined. The cream should hold peaks when you lift the beaters. Pipe into your brandy snaps. Or straight into your mouth.

Leftover cream will keep well for several days in a sealed container the fridge.